Taking the Path to Fleet Ownership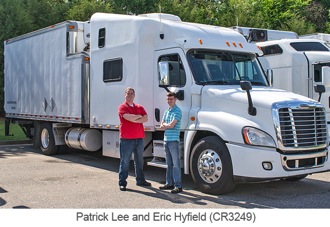 In June of 2013, Spotlight reported how Patrick Lee and Eric Hyfield, two young men from Baton Rouge, Louisiana, turned to Expediting to escape the effects of the "Great Recession" and the limited economic opportunities in their area. Today, they are successful Fleet Owners who know a thing or two about utilizing Expediter Services' Circle of Success and taking the Path to Ownership. Click here to read story from June of 2013.
Their journey to Fleet Ownership began in November, 2012, entering the Circle of Success as new Contract Drivers. By June of 2013, they bought their own truck through Expediter Equipment Finance, becoming Owner Operators. And just this month, they became new Fleet Owners with the purchase of a refrigerated 2009 Freightliner Cascadia. "Ever since we began in Expediting, Eric and I dreamed of being Fleet owners," said Lee. "When we got into the business as Contractors with Expediter Services, we jumped into it with both feet; staying out on the road for long stretches of time, taking lots of loads and learning as much as we could. This helped prepare us for the next step of actually buying our own truck. Now, we've learned even more and recently purchased a refrigerated truck — our first step to building a fleet."
It's interesting to note that Patrick and Eric's plans to purchase a new truck were already laid as far back as April — then they visited the EGG the weekend of April 4th & 5th, and things changed! "It's kind of funny, Eric and I had already found a truck to buy and we were getting ready to talk to Expediter Equipment Finance about it. At about that same time, we learned about the EGG at ES's offices in Southaven, Mississippi. We went their with the sole purpose to just meet the folks at Expediter Services and get to know other Expediters. But when we got there, we saw this Cascadia for sale, and it was such a better truck than the one we had already picked out. We spoke with Steve Kochensparger who was at the EGG and started the ball rolling to purchase the truck. The EGG was so much better than we expected. It was great meeting so many Expediters and talking to them about their experiences as Contractors, Owner Operator and Fleet Owners. I would recommend anyone interested in this business to visit the EGG."
The future is looking bright for the new Fleet Owners. "Today, we just locked down a team to drive our new truck. Now we can concentrate on working hard so we can expand our fleet in the near future," said Lee.
ES is working for You!
Call us at 877.349.9303 and Never Stand Alone.

Please visit us on Facebook.