Testimonials
Zakiya Simmons
I've had a good experience, especially since coming on board with ES. Being a truck owner has its own challenges compared to being a company driver. You have more responsibility, but you also have much more opportunity and the rewards are that much greater. That's why it's important to have someone standing in your corner with you, like the ES team. It also means a lot to me that ES backs women in this industry with the 150 Business Challenge, helping to encourage more women-owned businesses in trucking.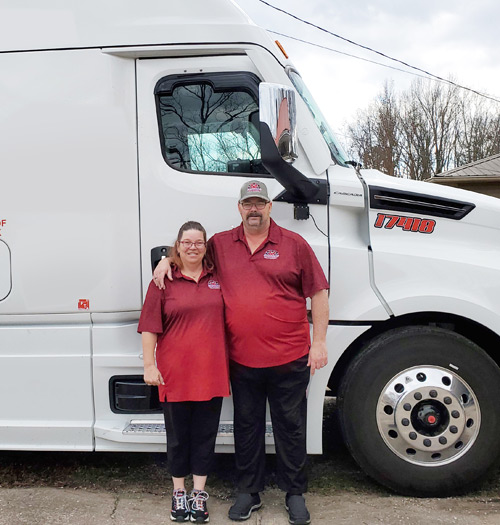 Ken & Jessica Horn
Owner-operators and fleet owners who work with ES can obtain access to financing at highly competitive rates and terms. One of the true strengths of ES and the community we have established over the years is our ability to work with owner-operators and fleet owners to grow your fleets through one of the best financing platforms in the trucking industry.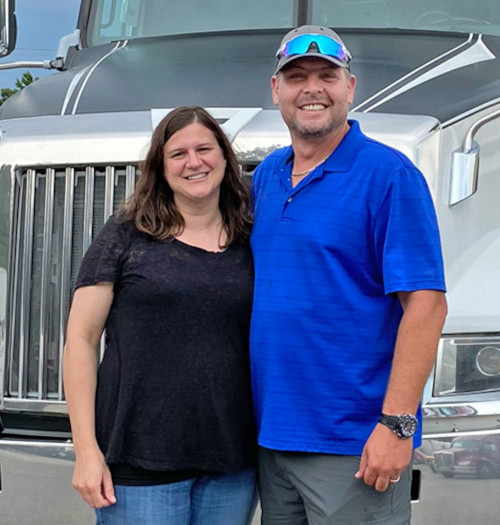 Jaco Nel
I must say that I have dealt with a couple of other companies within the trucking industry, and there's a different atmosphere around ES. They always make you feel welcome. Plus, the programs they have in place for fuel, maintenance, insurance and business support, for example, really make a difference for those of us who are running a business while we are out on the road. I've been working with the ES team now for about the last year and a half, and one of the greatest things about is ES is that they are true to their word. I am very grateful for the help and the advice they have provided for me. Anytime that I've a question they have helped me in finding the answer.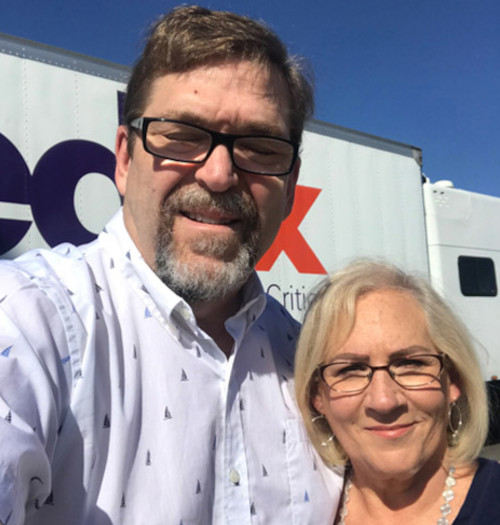 Valerie & Jeffrey Welborn
Transportation gives you the opportunity to travel and experience things you would never get to do in a more sedentary occupation. I always tell women who want to get into transportation to keep an open mind. It's not a business for everyone, but there is so much opportunity for women. I'm grateful that ES supports women-owned businesses with the 150 Women-Owned Business Challenge. Women should know that there are real careers to be made in the trucking field.
I like the fact that ES is flexible with their Path To Ownership and lets us qualify for a truck using available data from the motor carrier that is provided to ES Equipment Finance. Our long-term plan is to add more trucks to our fleet in the future. The PTO makes the process easy and streamlined and we know what we're getting. It's a great opportunity to start our fleet off on the right foot.
Patrick Lee
ES has become a key resource for our company. They don't shy away from the tough conversations that you sometimes have to have as a business owner in this industry. We have learned a lot over the years from the team at ES, and we've grown as a company in part because we have an open line of communication with ES. They are able to offer us a fresh perspective, and what they have shared with us has helped in allowing our business to grow responsibly.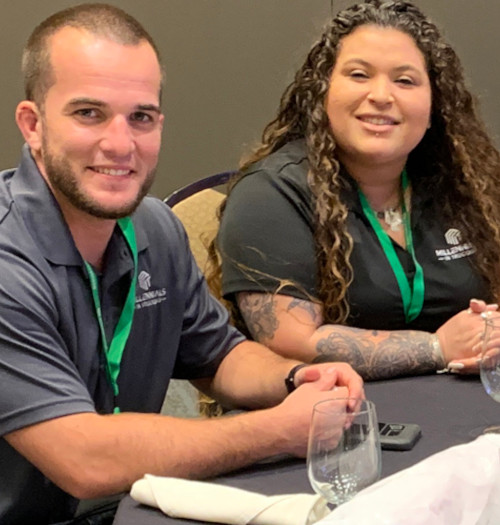 Jackie Rocha
Through the COVID pandemic, ES, as they always have, stood by us. ES was great about providing advice and resources. We got detailed information on PPP and the other programs that were able for small businesses. The company provided ES Community members with the option to have deferred payments on the trucks financed through ES. ES really came through for all of us. When ES says, You Never Stand Alone, they are true to their word.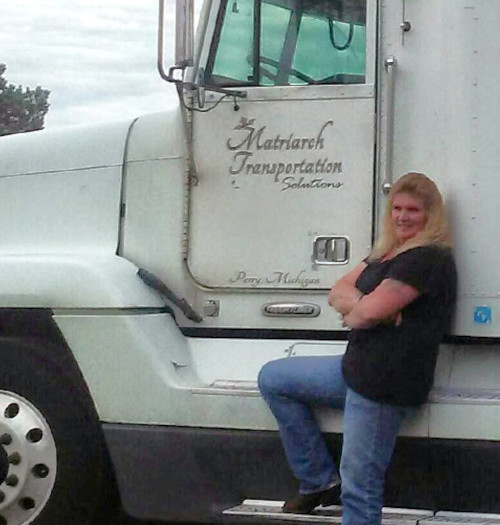 Deb Carter
When I first heard about the ES Advantage Program, I was a little skeptical. Then I talked to the team at ES and I came away from that conversation wanting to give it a try. And I'm glad that I decided to try the ES Advantage. The program has given me the savings that ES promised and more. It's definitely worth it, and I learned first-hand that you can trust what ES tells you.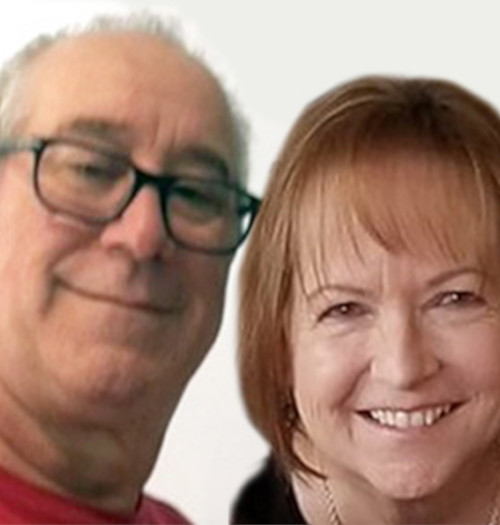 Joe & Carol Shelton
While it's hard to predict what's going to happen tomorrow or down the road, we do know this: We do have great partners in ES and FedEx Custom Critical. They both have shown over the years that they will stand by our business. They are invested in our success. As we look at things down the road, I've been able to talk to the team at ES about what's happening in the industry, and what they see that's ahead in the industry. Being able to have those kinds of conversations and being able to have access to that kind of expertise is a big deal.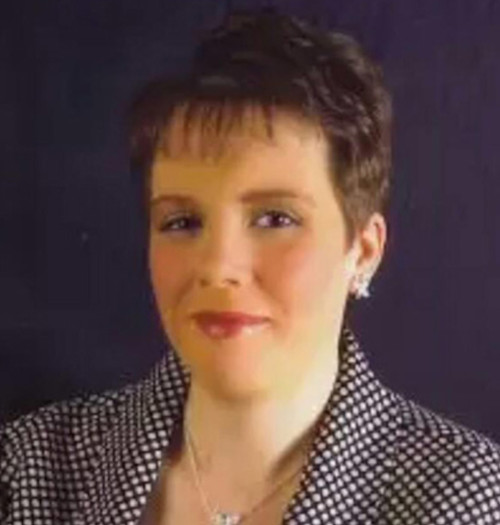 Amy Williams
At first, we were skeptical because it looked like one of those too-good-to-be-true deals that you see in this industry. But, as we looked further into the program and as we got to know the people at ES, we could see that ES would be invested in our success," observed Amy. "We moved ahead and ES checked our credit, which wasn't great at that point. But, as we learned, ES doesn't just go by what your credit score is. They look at your work ethic. They look at the working relationship that you have built your carrier. They also look at what type of person you are. For us, it was great because ES went beyond looking at a credit score that is on a piece of paper. They looked at the whole picture. That was a huge help for us.
Danny Cobb
We really do feel like we have drawn a winning hand. You can't beat the support you receive from ES and Forward Air. I talk to people all the time about the discounts and the services that are available through ES. Like they say, ES will never let you stand alone. When someone asks me about our experience, I will tell them to check out ES. If you want to be a successful truck owner, ES is the way to go. If you are willing to do the hard work, ES will help you become a success as a business owner in this industry.
Donna Sleasman
ES has become a valued business partner, and they have helped me become more successful as a business owner. The discounts ES provides are some of the best in the trucking industry, and the support they offer to me and to everyone in their program is first-rate. I can walk right into (ES President) Jason Williams' office and ask him a question. He will take the time to listen and to get me with the right people who can address what I need. ES backs up what they tell you and they truly care about your success as a business owner. The biggest thing is that they have been there when I have needed them, and that's the way they work with everyone in their program. If ES had been in business and with the program they have today back when I started, it would have been incredible. It's been a long road to get to where I am today.
Blair Seigle
We had a lot of support from the ES team. There was a lot to learn and we had a great deal of questions. One of the things we learned was to listen to the advice from our Service Coordinator about loads, maintenance and many other aspects of running a successful expediting business. We soon found out that by following their proven strategies and working hard, you have a great opportunity to build a profitable business.