Going Far in a Short Amount of Time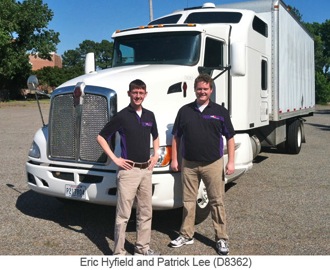 Like many folks affected by what has become known as the "Great Recession", long time friends Patrick Lee and Eric Hyfield were looking for career opportunities. After quite a bit of research online, they realized that Expediting may just give them the leg up they needed to turn their careers and their lives around.
"The state of the economy in general had really made it tough for me to make a living here in Baton Rouge," said Patrick Lee. "I wanted to find something that could become a career, and not just short term employment. Eric was kind of in the same boat, we both were looking for the right opportunity. I started doing some research online and began looking into Expediting. The more I learned, the more it appealed to me. I really liked that idea that driving an Expediting truck didn't involve hauling a trailer."
Their online research eventually lead to Expediter Services' website. "When Eric found Expediter Services online, I contacted them to see what we would need to do to become Expediters. Their insight into the industry was really helpful. Even at this early stage, Eric and I had it in our minds that we wanted to be Owner Operators — but first, we knew we had to learn the business from the ground up. We got our CDL's and signed on with Expediter Services as Contract Drivers," said Patrick.
Indeed, Patrick and Eric's Expediting education had begun in earnest. "With FedEx as our carrier, we began making runs all across the country. We've really learned a lot over the past eight months, and Expediter Services' support has been extremely helpful all along the way, so much so, that we decided we were ready to take the path to truck ownership," said Patrick. "We contacted Josh Swindoll at Expediter Truck Sales and soon began the process of buying a truck of our own: a 2008 Kenworth T660! The process went smoothly, we made our downpayment and Expediter Equipment Finance helped us with financing. It couldn't have gone any smoother."
Their journey into Expediting and truck ownership took less than a year, but they've set some long term goals going forward. "In the near term, we're going to run our new truck and focus on earning money. We've already made a run into Canada, and things are going really well. In the future, we're thinking of adding another truck or two. There really is no telling how far we can go," said Patrick.
ES is working for You!
Call us at 877.349.9303 and Never Stand Alone.

Please visit us on Facebook.