Joe & Carol Shelton Look Back At A Decade Of Growth With ES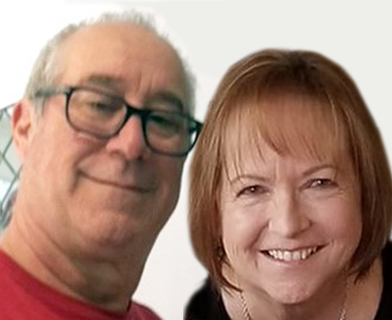 Over the past decade, Joe and Carol Shelton have become shining examples of what is possible through the ES Community. The timeline of Sheltons' growth from industry newcomers with a dream to the reality of successfully operating a family-owned business with a 12-truck fleet stands as a testament to hard work and the support offered through the ES Community. Just take a look at what the Sheltons have been able to do over the past 10 years.
In 2010, Joe and Carol began working with ES as part of the couple's effort to build a trucking business. In 2011, the Sheltons became fleet owners with FedEx Custom Critical, operating their own LLC, R2R Associates, while utilizing the programs and services ES offers to small business owners in trucking.
At the beginning of 2014, Carol exited the driver's seat of the truck to focus her energies on handling the day-to-day operations. Dean Shelton then joined the family business to create a father-son driving team for a period of time during the company's growth and development. The Sheltons' daughter, Evin Watkins, followed in her brother's footsteps, joining the company to assist with working on payroll and accounting needs.
Through their time out on the road and behind the wheel, Joe and Carol have been able to bring a perspective and an understanding while working with the drivers in their fleet. When it comes to setting up their fleet for success, Joe and Carol place an intense focus on creating a hassle-free environment for the members of their fleet.
In running a fleet of custom-built trucks, featuring large sleepers and other extras, the Sheltons are seeking to provide their fleet with maximum comfort and the kinds of amenities that help to make life on the road as smooth as possible. One of the hallmarks of the company's operation is the fact that the Sheltons take great pride in their fleet and they always strive to keep the R2R fleet well-maintained and profitable for both the company and its independent contractors. At R2R, maintenance, safety and driver morale are always the top priority.
Spotlight News recently caught up with Joe and Carol during preparations for their participation in the IN-SITE 2020 webinar series. Joe and Carol were part of a panel of business owners who participated the webinar. To view a replay of the webinar, please click here.
Now for the Q&A with Joe and Carol…
How have you adjusted to operating your business during COVID-19?
Joe: We have always been careful to maintain cash reserves as part of our operation. You never know when situations are going to come up, and having cash reserves proved to be very important this year. We were prepared for when it happened, and our cash reserves, along with the Paycheck Protection Program, have helped to carry us through so far.
We have been able to maintain our fleet size that we had prior to the pandemic. We had 12 trucks before things started and we're still at 12 trucks. One of the keys to maintaining our fleet is the fact that we have very good teams driving for us. They have kept our trucks moving and busy. Our teams have continued to step up and that's really helped.
Can you talk to us about your experience with the support and the services that are available to your business through the ES Community?
Joe: This is one of my favorite topics, and you'll find me preaching about ES all the time. There are so many places that ES works to make a difference for your business. For us, it's been the maintenance program and their fuel program as well as their sales and finance programs.
Let's take maintenance, for example. If you are running a trucking business, maintenance is a very big deal. We have 12 trucks, and our operation is a family business with four members of the family. Before we started using the ES maintenance program, we were getting calls at two and three in the morning when a truck had a problem. That's just part of the trucking business. But with the maintenance program that we can access through the ES Community, we are able to have 24-hour maintenance support. We are able to set parameters with the maintenance team on how to handle things after hours. That's been great. Plus, through the maintenance program, we are able to schedule preventive maintenance as well. Having access to a strong maintenance program means the world to me and our business. I can't say enough about the maintenance program that is offered through the ES Community.
Another big plus for our fleet is the EFS platform that ES utilizes. Through their EFS platform, we have a percentage of each load deposited to our EFS account at each delivery, which can help with cash flow. Also, the EFS platform used by ES is very secure and it provides us with detailed reporting.
Insurance is another huge consideration for anyone in business in this industry, and ES has worked with its vendor network to offer strong and affordable insurance options to the members of the ES Community. The coverage and the discounts on insurance alone make being a part of the ES Community worth it.
What other service offerings have you and your company utilized through the ES Community?
Joe: One of the services that we have found very valuable to our business has been the truck sales arm of ES. If we have truck that is aging out and needs to be sold, ES has a great system where they can post it for us, advertise it, and they even take the calls from the people who are interested in buying the truck. ES sends me the offers they get on the truck. There have been times when ES has provided the financing for the person buying one of my trucks. It's great.
The services that ES offers to the members of the ES Community are comprehensive. From industry-leading discounts on fuel to discounts on truck washes, ES covers it all. At the end of the day, we consider ES as a business partner, and we believe you have to have strong business partners to succeed in this industry. Everything that ES does is focused on supporting our success and the success of everyone in the ES Community.
The team at ES is always available to help you on whatever comes up. They have some of the most knowledgeable people in the industry – people who will stand by you and walk with you.
Is there anything else you would like to share with us?
Carol: We are very grateful for the relationship that we have built with FedEx Custom Critical over the years. They have been very important to our success and growth over the years. FedEx Custom Critical and ES have formed a great support team for our business. Even given the challenges we've faced with COVID, we have done well this year. Of course, we believe that we have the best teams on the road today running in our fleet. Our teams bring it every day, and those efforts make us successful.
Joe: We went back and looked at the month-by-month results for 2018, 2019 and 2020. What we've seen so far this year is not too far off the mark, considering all that has happened this year. And while it's hard to predict what's going to happen tomorrow or down the road, we do know this: We have great partners in ES and FedEx Custom Critical. They both have shown over the years that they will stand by our business. They are invested in our success.
As we look at things down the road, I've been able to talk to the team at ES about what's happening in the industry, and what they see that's ahead in the industry. Being able to have those kinds of conversations and being able to have access to that kind of expertise is a big deal.
To learn more about R2R Associates, please click here.
ES is working for You!
Call us at 877.349.9303 and Never Stand Alone.

Please visit us on Facebook.