Amy Williams Finds Ownership Success Through ES & 150 Business Challenge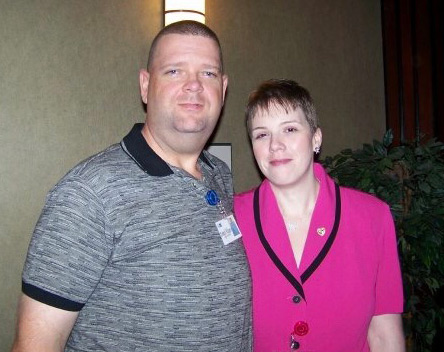 One of the greatest strengths that Amy Williams has utilized while becoming a successful business owner within the ES Community can be found in her powers of observation. Going back to her introduction to trucking, Amy has always displayed the ability to examine a given situation, ask the right questions and build a level of trust based on what's she's learned and experienced.
Part of Amy's approach to running her small business with her husband, Kenneth, can be traced back to her first days in trucking. Kenneth earned his CDL in 1995 and Amy decided to ride along with him. From the jump seat and out on the road, Amy was able to take note of the industry. As an observer, she was able to be a first-hand witness to both the benefits and the challenges presented within what is daily life behind the wheel.
Not long after being on the road with Kenneth, Amy made the decision to go through the process to earn her CDL. She then took the next step and became a team driver with Kenneth.
Amy was presented with another opportunity to consider what she was experiencing within the industry when the call of family put Amy's driving career on pause. Some medical issues arose for her parents and she went home to help them. In stepping back from the road, Amy gained more perspective on what might be possible. In addition to assisting her parents during this time, Amy was able to earn a degree in medical office management before finding positions working for a hospital and a surgeon. The practical experience that Amy gained in business management would prove to be quite valuable as she entered the next chapter of her career.
Following the loss of her parents in early 2010, Amy was back on the road with Kenneth. They had become interested in truck ownership and building a small business in trucking. Their first attempt at truck ownership landed them with a piece of equipment that presented numerous costly issues and eventually led Kenneth and Amy to sell the truck.
The next attempt Amy and Kenneth made in pursuing their dream of truck ownership involved entering a lease-purchase program through Panther Premium Logistics, a Service of ArcBest. Amy and Kenneth had built a good working relationship with Panther Premium and they had performed well within the fleet. While Amy and Kenneth had established a level a success and independence through participating in a traditional lease-purchase program, they felt like they were still falling short of holding that sense of true ownership with the truck they were running. "We had reached that point where we were paying on the lease and we felt like we were never going to see the benefit of owning the truck," said Amy.
At the time that Amy and Kenneth stood at what they viewed as a crossroads within their lease-purchase, ES had already established a strong working relationship with ArcBest and Panther Premium. ES had been serving as a leading non-asset capacity provider to Panther Premium, and the companies were examining other possibilities that could create opportunities for aspiring small business owners.
In November of 2017, ES announced a new collaborative program with the Women In Trucking Association (WIT) that put forth the goal of assisting to create 150 new women-owned businesses in transportation. The 150 Business Challenge brought together the outreach of WIT toward aspiring women entrepreneurs with the programs and support from ES, which included attainable access to financing at competitive market rates.
Panther Premium became one of the first fleets to participate in the 150 Business Challenge. As part of the Panther Premium fleet, Amy and Kenneth learned about the program. They saw the 150 Business Challenge as a new path to truck ownership and business growth.
Like most people in the industry, Amy had been pitched more than her share of programs and offers. As she examined ES and what they could offer through the 150 Business Challenge, Amy wanted to know if the reality of what you experience in the program matched up with what ES said about it.
"For us, it was great because ES went beyond looking at a credit score on a piece of paper. They looked at the whole picture. That was a huge help for us. They were able to use our earnings and performance to see how we were making it in the industry"
~Amy Williams
"At first, we were skeptical because it looked like one of those too-good-to-be-true deals that you see in this industry. But, as we looked further into the program and as we got to know the people at ES, we could see that ES would be invested in our success," observed Amy. "We moved ahead and ES checked our credit, which wasn't great at that point. But, as we learned, ES doesn't just go by your credit score. They look at your work ethic. They look at the working relationship that you have built with your carrier. They also look at what type of person you are.
"For us, it was great because ES went beyond looking at a credit score on a piece of paper. They looked at the whole picture. That was a huge help for us. They were able to use our earnings and performance to see how we were making it in the industry," she added "ES saw that we were making it with a traditional lease-purchase. So, why not transition over into a truck of our own? Thanks to ES, we were able to get a brand-new truck. It was the best decision we ever made, and the rest is history."
With her efforts to become a successful business owner during the early days of the 150 Business Challenge, Amy stands as a pioneer in a program that has now launched over 100 new women-owned businesses in trucking. These days, with Kenneth handling the driving duties full-time, Amy returned to being a full-time passenger, managing the administrative duties within their small company, Hot Transport, LLC.
"We are in a great situation. We have been able to continue our relationship with Panther Premium for many years now, and we also very much value being a part of the ES Community," said Amy. "The team at Panther has always shown us that they care about our success. Panther opened the door and worked with us in making the transition into the 150 Business Challenge with ES. We cannot say enough about the way that Panther and ES have supported us. It's very clear that both companies are focused on helping us to be in the best position to succeed."
In late September, Amy joined other business owners in the ES Community to be a part of a panel discussion for the third webinar in the IN-SITE 2020 Online Series. If you would like to watch the webinar featuring Amy or access any of the webinars in the IN-SITE 2020 Series, please click here.
"The future is definitely bright. That's for sure," said Amy. "The people at ES and the whole ES Community have been such a blessing to us. I could not see doing this without them. ES cheers you on. From their leadership throughout their entire team, ES stands with you and they encourage you. Anytime, day or night, they are here for you. So, when ES says, you will never stand alone, they truly mean those words. Most importantly, they back up those words with actions."
ES is working for You!
Call us at 877.349.9303 and Never Stand Alone.

Please visit us on Facebook.