Trucker Buddy: An Organization You Should Know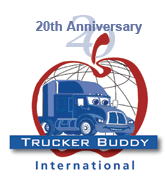 In November of 1992, Gary King, a professional truck driver contacted a grade school in Williams Bay, Wisconsin and asked the principle if he could write to a class of students as a "pen pal". A fourth grade teacher quickly agreed, and Trucker Buddy International was born. From this humble beginning, Trucker Buddy has grown into a respected not-for-profit educational organization with a world-wide reach.
The Trucker Buddy Mission
"Our mission is to enrich the educational lives of children through the positive experience and influence of professional truckers," said Randy Schwartzenberg, Trucker Buddy Executive Director. "Truckers have a lot to offer students in the classroom because of the many tasks they perform as drivers. They use math, computer, navigation, communication and business skills every day. Truckers also travel and drive cool trucks, which the kids really love! The experiential nature of truckers and trucking really holds the student's interest, making learning fun."
How Trucker Buddy Works
Drivers are encouraged to visit the Trucker Buddy website, where they can sign up to learn the rules and regulations of the Trucking Buddies program. The next step is for the driver(s) to be matched with a school. Drivers can choose a school or Trucker Buddy can help find a school for members to participate.
Trucking Mentor's rules help make sure the driver and the school are protected. They also create an atmosphere which leads to educating teen drivers and helps to build understanding of the trucking industry within the community. Once these steps are taken, truckers and schools can then communicate with each other and the learning begins!
"I encourage everyone to look into becoming a Trucker Buddy," said Expediter Services President, Jason Williams. "When we learned about the organization at the latest Expedite Expo, it seemed like a natural fit for Contractors and Owner Operators alike. My wife is a second grade teacher and she immediately saw the educational potential of the Trucker Buddy Program."
Kevin Keller & Cheryl Cooper: Trucker Buddies for the Long Haul
Kevin Keller and Cheryl Cooper are successful, long-time Owner Operators signed on with Panther. (read their story here in Spotlight News) Their involvement with Trucker Buddy goes back to September of 2014. "Being on the road can give you a lot of time on your hands when you're not driving, and I was looking for something meaningful to help us pass the time during our downtimes. I went online and found the Trucker Buddy website," said Cheryl Cooper. "As I read about their program I saw an opportunity for us to contribute to children's education while helping to promote the image of the trucking industry all at the same time. It seemed like a perfect fit."
Kevin and Cheryl contacted Trucker Buddy and signed up for the program. "We chose Jouett Elementary as our school in Mineral, Virginia. That area is rural and somewhat depressed economically and we felt those kids could really benefit," said Cooper. "We correspond with them through email about what we do and send them packages with information about where we visit. We even did a visit to the school in our truck and the kids absolutely loved it! We were treated like rock starts. It's not everyday they get to see, touch and sit in a big truck like this. You can tell it made a big impression on them and they really like honking the horn. I encourage any truckers out on the road to become a Trucker Buddy. Kids need to see that education has a practical application and truckers have so much to contribute."
ES is working for You!
Call us at 877.349.9303 and Never Stand Alone.

Please visit us on Facebook.