There's No Glass Ceiling in Our Trucks
Readers of Spotlight News are familiar with our continuing online series, "Women in Expediting", where we shine the light on women who have made successful careers in an industry that's been traditionally dominated by men.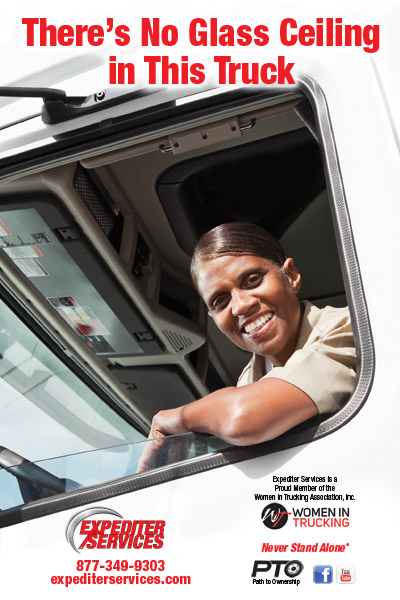 Expediter Services is proud to promote Women in Expediting, and according to Jason Williams, President of Expediter Services, company efforts are paying off as the percentage of women in the industry utilizing our services is growing. "Expediter Services supports Women in Expediting and offers an equal opportunity for women to enter the business. Our efforts are getting results as the national average of men in the transportation industry at the beginning of 2016 was approximately 95% male. As of today, the percentage in our community, utilizing our services is 70% men to 30% women. ES will continue to offer opportunities for women to become successful in Expediting. We want women to know that there's no glass ceiling in our trucks.
"As more and more women enter into Expediting, their roles vary depending upon their skill set and business goals. For instance, not all women are drivers or owners. Many gravitate toward other opportunities that support and grow their company business, including recruiting, bookkeeping and freight management, to name a few. It is becoming even more clear that as women move into Expediting, their talents are needed and welcomed in the industry.
It's also important to know that Expediter Services offers opportunity for anyone looking to enter Expediting without regard to gender, race or creed. We provide opportunity and support programs to help you succeed at your level of choice. It's what we do every day!
Did you also know that the Expediting industry as a whole has a number of advantages over TL and LTL trucking that helps women integrate quickly in order to create income and a successful career track, including:
– You can enter Expediting with a Class B license and learn on-the-job
– A family member can teach you the ropes
– You can advance your career trajectory by qualifying for credentials, such as such as HazMat, Passport, and DOD certifications, creating career-long enhanced income opportunities
– 99% no touch freight
And that's not all. Expediting also has definite lifestyle advantages, including:
– All ES straight trucks feature automatic transmissions, meaning less fatigue
– You can park a straight truck practically anywhere, enhancing your safety and lifestyle (malls, restaurants, RV parks, campgrounds and much more) — you don't have to park at truck stops or places that make you uncomfortable
– Our straight trucks cabins are more ergonomic and comfortable — cabins and switchgear are designed with women's needs in mind
– You can train and partner with a spouse or whomever you choose — you're not stuck with someone you don't know in order to learn the business
– More flexible working hours
– ES has certified diesel mechanics answering the phone 24 hours a day to handle breakdowns
In some respects, the rapid influx of women into trucking has left the industry somewhat unprepared. The exception to this situation is Expediter Services.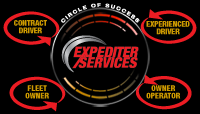 ES has in place a tried-and-true support system that allows women to enter into Expediting at their level of choice and become productive and successful almost immediately through our Circle of Success business model. In addition, ES is staffed by an experienced support team that includes a large number of  women, as well as men, who understand where you are coming from and who know how to help when and where you need it.
EXPEDITER SERVICES ADVANTAGES
ES supports you with proven support services, including:
– Premium Contract Driver Services
– Path to Ownership
– Owner Operator Program
– Expediter Equipment Finance
– Back Office Support
– Settlement Support
– 24-hour Breakdown Support
– Maintenance Support
– Insurance Services

If you're interested in our Contract Driver services and opportunities, please contact Kim Smith in Recruiting at 877-349-9303, ext. 121 or email her at [email protected]
If you're interested in our industry leading Owner Operator services and opportunities, please contact April Holland, our Owner Operator Program Coordinator at 877-349-9303, ext. 106 or email her at [email protected]
Visit our Women in Expediting page to learn about how you can get started today with your new career.
Stay tuned for another edition of Women in Expediting in a future issue of Spotlight News!

ES is working for You!
Call us at 877.349.9303 and Never Stand Alone.

Please visit us on Facebook.