The Spring EGG is the Place for Information & Opportunity

If you're a driver looking to become an owner, an owner looking to upgrade, a fleet owner looking to grow your fleet — or if you're someone who is looking to start an Expediting business in a team environment, the Fourth Annual Spring EGG (Expediter Group Gathering), May 12 & 13 at the Landers Center in Southaven, Mississippi, is the place to be.
The EGG is an event, hosted by Expediter Services that affords Expediters the opportunity to gather in order to meet others within the industry — and it gives ES the chance to get to know you personally. In addition, the EGG isn't a "one size fits all" event. Each EGG is different, covering different topics that are important to Expediters, including Truck Sales, Financing, Support Services, and any number of services and products offered by Expediter Services.
Industry Experts Featured at The EGG
The EGG features industry experts who will share their knowledge and experience. This year's speakers include:
– Lawrence McCord – Founder & CEO, OnTime Media
– Donna Sleasman – Fedex Custom Critical Fleet Owner, Her Journey
– Ellen Voie – President/CEO Women in Trucking
– Mike Welch – Founder & President, Magnate Worldwide
In addition to the above speakers, The EGG features a number of companies in attendance, including:
– Women in Trucking
– FedEx
– Stoops Freightliner
– Expediters Online
– Red Eye Radio
– Success in Trucking
There's More!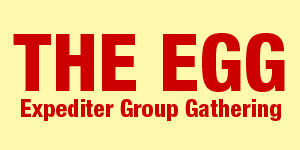 Along with a great lineup of speakers, ES will feature opportunities for networking, an open house at the newly updated ES offices, a grand opening at The Hub (our NEW Contractor's Lounge), and great food and fellowship throughout the weekend! ES management and staff will also be on hand throughout the event to get to know you and answer questions.
We look forward to seeing you here at the Spring EGG 2017 at the Landers Center in Southaven, Mississippi.
Learn more, watch Danny Vernon, Expediter Truck Sales Manager's video as he talks about the upcoming Spring EGG 2017. (click video to view)
To learn even more, check out what happened at last year's Spring EGG 2016.
ES is working for You!
Call us at 877.349.9303 and Never Stand Alone.

Please visit us on Facebook.