The SITE was Truly Something to See!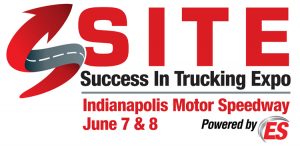 The inaugural SITE (Success In Trucking Expo) was a tremendous success, and the ribbon was cut successfully! This year's focus was on the community and truck sales, and as a result, a number of drivers became owners, owners became fleet owners, and fleet owners made plans to upgrade and grow their fleets. This proves once again with the opportunities offered by ES: If you can drive a truck, you can own the truck!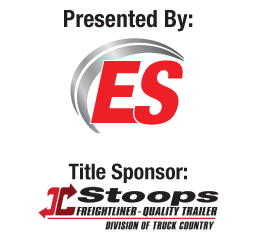 The SITE is a truly unique trucking event that's unlike any other gathering in transportation. We'd like to thank our Title Sponsor (Stoops Freightliner), Motor Carriers (Panther Premium Logistics, Forward Air and FedEx Custom Critical). We'd also like to thank our vendors, guest speakers and above all, everyone who attended the SITE. We are truly grateful for those we got to know on a personal level and we're looking forward to serving you through the ES community, so you Never Stand Alone.
Please continue reading below to see what happened at the SITE! 
Friday Evening, June 7th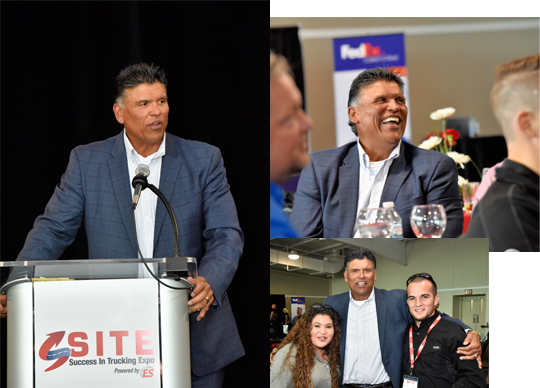 Friday evening's dinner kicked off the SITE, and proved to be the perfect venue for the ES team to greet those we know and get to know those we don't. It was a time to relax and get a feel for what ES and the SITE is all about. The highlight of the evening was hearing from our keynote speaker Anthony Muñoz, Pro-Football Hall of Famer and former Cincinnati Bengal. His personal story was inspiring and set the tone for the entire weekend.
Saturday, June 8th

Saturday, the SITE started off with a hearty breakfast, followed by a welcome from Jeff Tacker, ES Chief Operating Officer, who set the agenda for getting down to business. Following Tacker's opening remarks, the SITE kicked into high gear with the introduction of the first of three guest speakers from participating motor carriers: Nick Burch, Panther Premium Logistics, a Service of ArcBest; Ryan Gilliam, Forward Air; and Michael Abood, FedEx Custom Critical.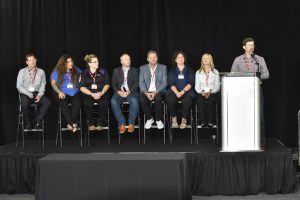 After the guest speaker presentations, everyone broke for a constructive networking and interfacing session, which gave participants the opportunity to discuss business and topics of interest with each other, as well as the ES team. Following the networking break, SITE Title Sponsor, representatives from Stoops Freightliner took the stage to discuss the latest equipment in transportation and its impact on the industry and your bottom line. Afterwards, everyone enjoyed a delicious lunch in the roundtable format, making for casual, yet fruitfull discussions.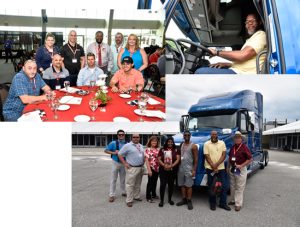 Next up was the introduction of the SITE Industry Panel Experts, who discussed a wide range of important topics related to transportation and success in trucking, followed by questions from the audience. To round off the SITE presenters was ES CEO, Paul Williams and ES President, Jason Williams who discussed the fact that with ES, if you can drive a truck, you can own the truck, as well as the importance of community. The day ended with the awarding of door prizes, the closing of deals and a scintillating ride and drive of new trucks hosted by Stoops Freightliner.
More SITE info will be coming soon!
See Our SITE Pics Below to Lean More
Once Again, Please Check out our Wonderful SITE Speakers & Panel Professionals
Keynote Speaker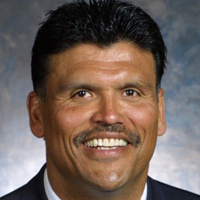 Anthony Muñoz, Pro Hall of Famer and Cincinnati Bengal
SITE Guest Speakers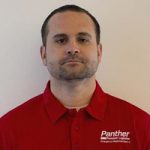 Nick Burch, Director of Recruiting for Panther Premium Logistics, a Service of ArcBest
Ryan Gilliam, Vice President of Recruiting for Forward Air
Michael Abood, Managing Director, Operations, FedEx Custom Critical, Inc.
SITE Industry Panel Experts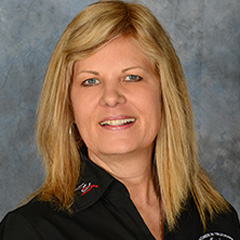 Ellen Voie — President & CEO of the Women In Trucking Association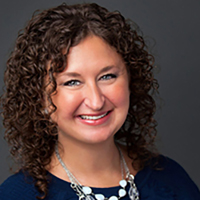 Leah Shaver — Chief Operating Officer for The National Transportation Institute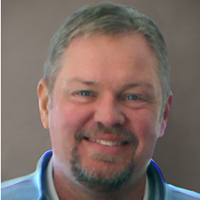 Brian McCoy — President of Stoops Freightliner-Quality Trailer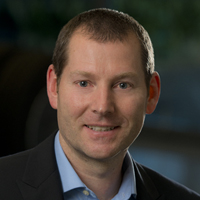 Chris Moran — District Sales Manager for Freightliner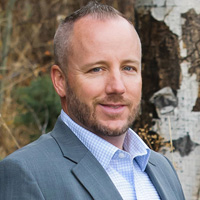 Colton Lawrence – Equinox Business Solutions, LLC President/CEO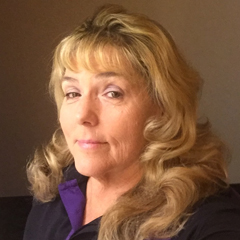 Donna Sleasman – Owner-Operator & Fleet Owner Within the ES Community
Jackie Rocha — Owner-Operator within the ES Community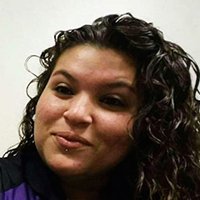 You Don't Have to Wait for the SITE to buy a truck. It's What We Do Everyday!
ES is working for You!
Call us at 877.349.9303 and Never Stand Alone.

Please visit us on Facebook.