The EGG at the Expo 2016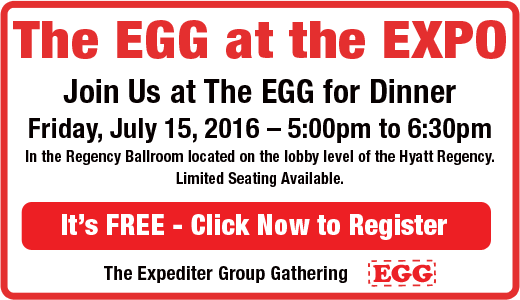 Expediter Services is excited to once again host the EGG (Expediter Group Gathering) at the Expedite Expo's new home in Lexington, Kentucky on July 15th.
The venue may be new, but the reason for the EGG remains the same: to provide a place for Expediters to meet and discuss issues affecting the industry and to help provide solutions for success.
According to Jeff Tacker, Expediter Services, Vice President of Operations, this year's EGG will address the state of freight, as well as other important topics. "At this year's EGG at the Expo, we will welcome those we know and get to know those we don't. We'll also address the ups and downs occurring presently in the market and discuss the opportunities ES offers to let owners know that we're here for you, regardless of the road ahead."


One of the most important features of any EGG is that each gathering is tailored to meet the challenges of changing market conditions. This year's EGG will speak to the current freight environment, allowing Expediter Services to offer real support, real programs, real services and a real community, born out of ES's experience. We look forward to seeing you at this exciting Expediter Group Gathering!The EGG at the Expo is open to current and prospective qualified team expediters.
Register Now or call 877-349-9303 for more information
ES is working for You!
Call us at 877.349.9303 and Never Stand Alone.

Please visit us on Facebook.