Taking the Path to Ownership — with a Twist
The decision to own your own truck varies from one person or team to the next. Sometimes, ownership is the result of the right circumstances and opportunity presenting itself at the right time. Others plan for truck ownership at the beginning of their Expediting career. But no matter which path you take, there's really no wrong time to buy a truck when you're ready to become an owner.
Jean McCallum and her driving partner, Robert Eccleston are the latest example of a team whose path to ownership began with a plan — and a twist, as they started off their Expediting career working for a fleet owner. "We began as Expediters in January of this year, signed on with Panther, and a fleet owner, Lyn Brumfield, (see his story here) who was utilizing Expediter Services Owner Operator Program (Expediter Management Services). I guess you could say we started our career as Expediters with a whole lot of support from everybody," said McCallum!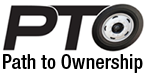 The fact that McCallum and Eccleston drove for another fleet owner didn't deter their dreams of becoming owners themselves. "Our background is in business. From the very beginning we knew that ownership would be in our future and once we got on the road and began generating income, we were able to run the numbers. It soon became clear that we were going to make the leap in fairly short order," said McCallum. "Our fleet owner, Lyn Brumfield, understood our entrepreneurial desires and was supportive all the way. Expediters are great that way. Especially when they are on the Road Best Traveled."


The next step in McCallum and Eccleston's quest for ownership involved a call to Expediter Equipment Finance and Expediter Truck Sales. "We spoke with Steve Kochensparger at Expediter Equipment Finance to get the paperwork started, which included our revenue numbers we produced while on Lyn Brumfield's truck. Once the financing was in place, Danny Vernon (Expediter Truck Sales Manager) found us a 2013 Freightliner Cascadia sourced from ES's fleet. We got a great truck! It's in excellent shape and it was a real deal compared to what we would have had to pay for a new one!"



"We then visited Expediter Services' office in Southaven, Mississippi this past Friday and picked up our truck. We were pleasantly surprised at how fast and efficient the whole process was from start to finish. We've been running our new Cascadia for less than a week now and things are going well. We're looking forward to earning even more of the pie as owners, and our goal is to build a fleet of 4 to 5 trucks in the not too distant future."
ES is working for You!
Call us at 877.349.9303 and Never Stand Alone.

Please visit us on Facebook.