Spotlight on the 2016 Spring EGG with Ed Wadel, COO, Panther Premium Logistics

This issue of Spotlight News shines the light on Expediter Services' third annual EGG (Expediter Group Gathering), to be held April 15th & 16th at the Landers Center in Southaven, Mississippi. This year's EGG will focus on truck sales and getting to know you on a personal level. The EGG will also feature as a presenter one of the foremost experts in expediting: Ed Wadel, COO, Panther Premium Logistics; who will share his knowledge about the current state of expediting and where the industry is heading within the next 3 to 5 years in the areas of Freight, Growth, Opportunity, Capacity and more.
Ed was kind enough to give us a taste of what to expect from his upcoming presentation at The EGG. So, buckle up, and be prepared for an advanced tutorial on the "State of the Industry"!
Ed's Background
Ed Wadel has 23 years experience in the expedite industry. Early in his career, he worked as an IT consultant for some of the largest and most successful companies in the world, including BP Oil, Timken-Latrobe Steel and Tilinghast. For thirteen years, Wadel was an onsite IT consultant for Panther and is responsible for the development of much of the technology that Panther uses today. In January 2006, he joined Panther as VP of Information Technology, and was promoted to Chief Information Officer later that year. He now serves as Panther Premium Logistics Chief Operating Officer.
Welcome, Ed, we're privileged to speak with you about the current state of expediting, and where the industry is going in the near future!


It's great to talk with Spotlight News to help give some insights as to where we feel the industry is going. I'm also delighted to be a part of the upcoming EGG. I'm looking forward to seeing the folks at Expediter Services again, as well as meeting a whole new group of people who will be participating in The EGG.
Can you tell us about what you will be discussing at The EGG?
I will discuss four key components of expediting: Freight, Growth, Opportunity and Capacity. As COO of Panther Premium Logistics, I deal with these subjects on a daily basis. At the EGG, I will talk at length about how these components are interconnected and how these connections may affect the industry in the next three to five years.
Let's jump right in!  What is your take on FREIGHT and its future.
When you look at all of the major market indexes, Morgan Stanley, etc., indicators point to increases in tonnage across the board. Factoring in things like home delivery heading up (which helps to pull capacity out of the market), freight will continue to grow for at least the next five years.
Also, there's a relatively new phenomenon taking place called "nearshoring", which means companies are moving their manufacturing closer to the U.S., and away from China to offset the rising costs of freight and logistics. Vietnam and Mexico are two countries where this is rapidly taking place. Nearshoring lends itself toward growth in freight by introducing expediting into new and nearby markets such as Mexico. This brings us to our next point, which is growth.
Please expand upon GROWTH in the industry.
As mentioned earlier, Mexico is a major player in the nearshoring movement. Their growth in the manufacture of automotive and life science (to name a couple of growth industries) presents a huge upside for expediting, as there has never been an expediting presence in that country. The fact that Mexico is so near to the U.S., with easy translating and cross docking at the border, the process is efficient, making it attractive for expediters to move into this market.
Another area for growth is the fact that more companies are realizing that expediting can now become a part of their supply chain. Companies are finding that more "focused" shipping, where they are able to ship smaller units of freight on a smaller truck, is more optimized and efficient than shipping a small load on a half-full tractor. Companies that don't have expediting as part of their "spend" are actually over paying for the truckload. This realization is beginning to take hold in the market, pushing growth.
Explain how all of this leads to more OPPORTUNITY.
I'm sure Spotlight readers are beginning to see that all of the topics we're discussing are interconnected. Freight and Growth build upon each other to provide opportunity in the market. But there is also a new paradigm that is evolving as technology becomes more pervasive — and this is known as the "Internet of Things" and "Big Data". (Learn more about The Internet of Things and Big Data)
Opportunity in expediting is expanded via the sharing of information over the internet. For example: Let's say you're driving down the highway anywhere in the USA. Through your ELB, you know how much fuel you have, even when your next break takes place. There's a truck stop about fifteen miles ahead. Big Data can tell you how many parking spots are available and even fuel prices. On top of that, imagine that this information is tied into inventory control and warehousing systems. The interconnectivity of data has the advantage of helping move freight. Which brings us to our next subject: Capacity.
How does the future look like for CAPACITY?
Interconnectivity and the sharing of information will empower expediters in a number of ways, positively effecting capacity and driver retention. Big Data improves the quality of services to the carrier and the customer. It also improves the quality of life for drivers by providing information about when they can get loads — and when they can go home. These opportunities will only get better in the future as more and more drivers access this information. It's a win-win for everyone, the customer, carrier & contractor.
Other factors that will effect capacity can be attributed to what is being called a "perfect storm". This includes: a driver shortage, DOT and other regulations, and increasing freight volumes (including automotive). Any of these disruptions drive freight into the expediter world and are actually good for expediting. Capacity shifting from standard freight to expediting makes retention even more important to the bottom line, up and down the supply chain.
 What is your take on Direct Contract Customers versus Load Boards?
Loads boards work when capacity is loose, as it is at the moment. When capacity tightens up, load boards have a distinct disadvantage because they just don't take care of the customer. There's absolutely no customer service. It's advantageous for the customer to be signed up with a carrier who will take care of them, who has the ability to have a margin of pricing control over freight and that they know they are not going to get gouged out in the marketplace. Load boards are always going to be out there, but I don't see them winning in the long run. Being with a carrier provides peace of mind. Once the carrier is given freight, the customer can forget about it, knowing it will be delivered on time and on budget.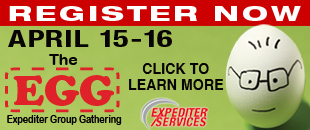 Thank you Ed, for giving us a sneak preview of what to expect at The EGG. We look forward to seeing you there!
See Ed Wadel's "State of the Industry" presentation live and in person at The EGG. Register Today!
ES is working for You!
Call us at 877.349.9303 and Never Stand Alone.

Please visit us on Facebook.