Path To Ownership Program Serves As Keys To Profitable Future For Ken & Jessica Horn
When Ken and Jessica Horn made their run to the Stoops Freightliner dealership in Fort Wayne last October, the trip to Indiana represented a very important milestone in the journey they have taken within the ES Community. In their eyes, those final miles covered in going to the dealership truly held the key to their future success in trucking.
Ken and Jessica were comfortable and confident when they arrived at Stoops, where they were greeted by Nate Meyer from the company's equipment sales team. Nate, the Stoops team, and everyone connected with the Path To Ownership (PTO) program at ES had been working with Ken and Jessica on all the details related to their life-changing purchase. It had been a careful and thoughtful process for Ken and Jessica. Over the previous 10 months, the Horns had taken the time to learn about the full range of services and support available to the ES Community through the PTO program.
Ken and Jessica had also taken the time to get to know ES as they ran as owner operators within the Forward Air Fleet. Meanwhile, the ES team had an opportunity to learn about the Horns and how they handled the demands of running a business while being on the road in the trucking industry. All the miles that had been covered in the PTO program before Nate handed off the keys to the Horn's new 2021 Freightliner Cascadia had paid off. The relationships had been established and trust had been formed.
"I am really glad that we were able to take our time with the ES PTO program. The 10 months we spent in one of the trucks that ES has with Forward Air allowed us to learn about ES and everything they have in place to help you succeed as independent contractors, explained Jessica. "By the time we got our keys, we were ready to take the next step into equipment ownership. We knew that we could trust ES, and ES knew that they could trust us."
In looking back at the events that began turning the ignition on a new career path, a call to Forward Air by the Horns to ask about opportunities for owner-operators put the process in motion.
The Horns had reached a point of transition in their trucking careers. They had been a top-running team for their previous motor carrier while driving a series of lease-purchase trucks during an 11-year stretch. Quite frankly at this point in their careers, Ken and Jessica were in search of an owner-operator program that could deliver more to them when they called Forward Air. Fortunately, for Ken and Jessica, the call to Forward Air led to a referral and then a call from the ES Recruiting Department.
"ES respects us as business owners, and they have put everything in place that you need to have to be successful in trucking with a network of services and great support."
~ Ken & Jessica Horn
Forward Air had always been a company that looked interesting to Ken and Jessica, and it ranked as the top choice on their contact list. In many ways, it was fitting that their call to Forward Air ultimately represented a key moment in determining the Horns' future career path. When looking back at their time in trucking, the Horns have always been able to find the keys – from the ones you hold that open a locked door and start a truck to the ones that point you to some of life's most important opportunities.
"Ken and I actually met because I had locked my only set of keys in my truck. We were at a truck stop, and Ken could see we drove for the same company. He wanted to know what was going on and if he could help," recalled Jessica. "The locksmith had told me it was going to be at least a two-hour wait, and Ken asked if I could try his key in the lock. His key actually unlocked my truck and we were both amazed."
That moment with Jessica's truck started a conversation in which they learned they had a great deal in common – including living fairly close to each other in Alabama. Not long after Ken and Jessica first met, they were married and driving as a team.
"When Meghan first talked to us, we didn't know about ES and how ES works with Forward Air," recalled Jessica. "Meghan was able to answer all our questions and kept in touch with us. She gave us the time and space we needed to make a decision, and we are thrilled with the choice we have made in going through ES. We have all the support we need, and I can't say enough about what Lee Burkhalter, our service coordinator from ES, has done for us. We appreciate the fact that Lee and everyone at ES are committed to our success."
"Jessica and I have both been in the trucking industry for more than 25 years. We have seen a lot in that time," observed Ken. "We learned first-hand that ES has a great program. ES respects us as business owners, and they have put everything in place that you need to have to be successful in trucking with a network of services and great support. We've got the keys to a truck that is our own, and we love our new truck. I wish I had known about ES years ago."
Recalling the time she first met Ken standing outside of a locked truck years ago, Jessica made a special request of Nate before the Horns met him at Stoops in Fort Wayne to pick up their truck.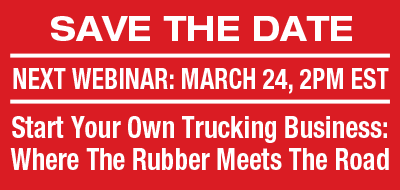 "I asked Nate if it would be possible to get two sets of keys to our new truck," related Jessica. "I didn't want to take a chance on ever being locked out again. And, just like the way that ES covers every detail, Nate remembered what I asked him. When he gave us the keys, there were two sets. That kind of service and support, with people who really listen to you, is what we've come to expect from ES and everyone in the ES Community. Looking back at where we've gone with ES and Forward Air, we are glad we made the call that we did."
ES is working for You!
Call us at 877.349.9303 and Never Stand Alone.

Please visit us on Facebook.