Mama Says: EGGs are Good!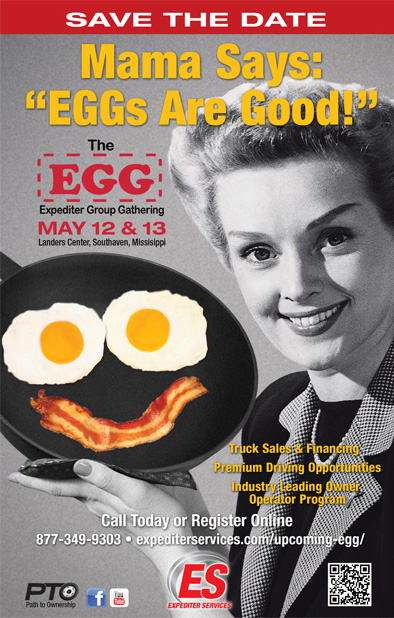 Mother's Day just happens to fall on the same weekend as the Fourth Annual 2017 EGG (Expediter Group Gathering) at the Landers Center in Southaven, Mississippi — which takes place on May 12 & 13. That's OK! Because Mama says "EGGs are Good"! And YOU should be here!
Why Should You Make It to This Year's EGG?
Because the EGG features industry experts and focuses on the new year and new opportunities for anyone looking to purchase their own truck or grow their fleet. (see scheduled speakers here)
Just what is the EGG (Expediter Group Gathering)?
The EGG is an event, hosted by Expediter Services that affords Expediters the opportunity to gather in order to meet others within the industry — and it gives ES the chance to get to know you personally. In addition, the EGG isn't a "one size fits all" event. Each EGG is different, covering different topics that are important to Expediters, including Truck Sales, Financing, Support Services, and any number of services and products offered by Expediter Services. Or an EGG can simply provide a venue for everyone to get to know each other better, as with our highly anticipated EGGs at the Expo.
Mama knows best! SAVE THE DATE. Come to The EGG to Bring Home the Bacon, register here — It's FREE.
We look forward to seeing you here at the Spring EGG 2017 at the Landers Center in Southaven, Mississippi.
Learn more, watch Danny Vernon, Expediter Truck Sales Manager's video as he talks about the upcoming Spring EGG 2017. (click video to view)
To learn even more, check out what happened at last year's Spring EGG 2016.
ES is working for You!
Call us at 877.349.9303 and Never Stand Alone.

Please visit us on Facebook.