ES Success In Trucking Expands Offering to Include Health Insurance Marketplace
At ES, we believe that the owner-operators, independent contractors, and fleet owners that make up our community are their own greatest asset and that staying healthy is essential to achieving their Success In Trucking.
At the IN-SITE Dinner hosted by ES at the Expedite Expo held Friday, July 21st, leaders from ES announced the addition of a new health insurance marketplace, ESHealthPlans.com, to our suite of growing solutions designed to improve our community members' quality of life and profitability.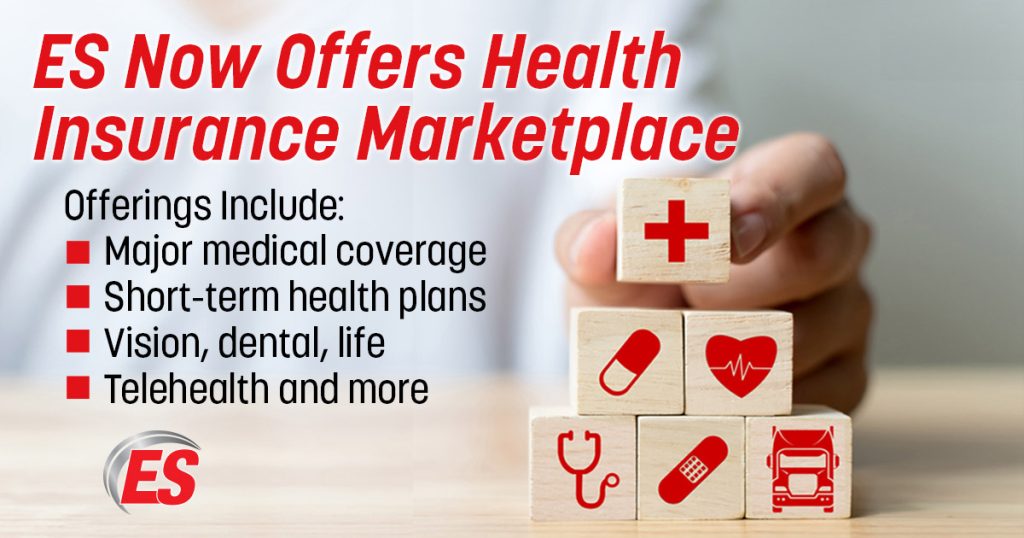 For less than $.01 per mile, this exclusive offering provides customizable plans that can be built to include health, dental, vision, telehealth services, life insurance, and more all at a price point that makes sense for our community members. This new marketplace can also benefit fleet owners, helping them attract and retain valued professional drivers.
Next-day coverage is standard for health, dental, life, and accident insurance with no exam needed. This combined with the telehealth component allows participants to have access to their preferred healthcare provider 24/7 without an extended waiting period, drawn-out process, or coming off the road.
"When you're an owner-operator, your greatest asset is your well-being and health," stated Jeff Tacker, Executive Vice President, Chief Operating Officer, and Chief Commercial Officer for ES. "Taking care of yourself while on the road is a challenge, and the ES team is committed to making it easier for our community members to get great coverage that meets their needs at an affordable price."
To learn more about the health insurance marketplace, visit ESHealthPlans.com to view available options and compare costs or schedule an appointment with Greg Hellmich, a former driver turned healthcare consultant. As a former truck driver, Greg knows the challenges you face on the road and can help you and your family navigate the enrollment process and select the right options for you.
The rollout of the health insurance offering was one of several highlights of this year's Expedite Expo. Stay tuned for additional content as we recap, reflect, and share insights from another great event.
Going In-Depth With David King On ESHealthPlans.com
In this episode of the Success In Trucking Podcast, we'll meet David King, who is part of the team that has worked with ES to develop ESHealthPlans.com. David is a trucking industry veteran and he's watched the difference that the opportunities and programs from ES have been making in the trucking industry for many years. As you'll hear, David shares his long admiration for the ES Community. A major portion of the interview features David discussing the advantages that are now available through the insurance offerings that can be accessed with ESHealthPlans.com.
Stay up-to-date with the Success In Trucking Podcast.
Along with the latest news and happenings from ES, the podcast features interviews with industry experts as well as members of the ES community. Each episode will weigh in on pressing topics and provide insights & tips, all in an effort to help you run your business more effectively and efficiently.