Egg at the Expo 2019 Equals Success In Trucking

Open to Current & Prospective Qualified Contractors
Considering a Career in Transportation?
Considering Growing Your Business?
Looking for Success in Trucking?
If we missed you at the first inaugural Success In Trucking Expo (SITE), held June 7 & 8 in Indianapolis, we'll see you at the EGG at the Expo! Come enjoy good food and good fellowship. See old friends and make new friends. Wonderful and timely information is shared. Come join this community.
Opportunities at the Expedite Expo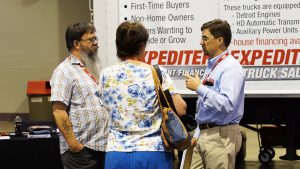 If you are considering entering the transportation industry, growing your business, transitioning from a traditional lease purchase and looking for Success in Trucking, you're in the right place. ES understands that your business is making money. And we're here to help you achieve this goal with business opportunities backed up by support programs that save you money on fuel, financing, insurance and much more, so you Never Stand Alone. Whether you're a new or experienced Contract Driver, Owner Operator or Fleet Owner, ES offers you the opportunity to maximize your potential at your level of choice, so you can succeed Your way. Also, be sure to check out our impressive selection of new and pre-owned equipment at the ES Truck Sales booth located outside in the parking lot.
What to Expect at the EGG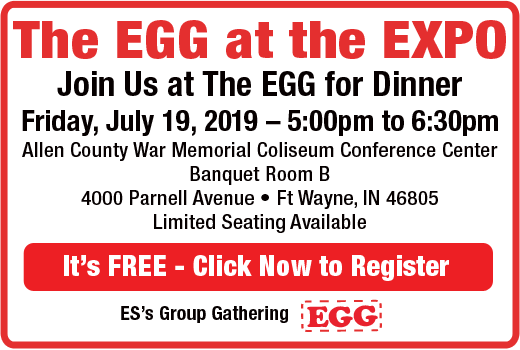 We feel the best way to tailor programs that support you is to get to know each other on a personal level, and that's what the EGG (ES's Group Gathering) is all about. We want to build relationships in order to better serve you with programs and offerings that create Opportunities to help your business grow. We hope to see you July 19, 2019 at the Expedite Expo in Fort Wayne, Indiana. Register Now!

Business Opportunities & Success in Trucking
Truck Sales & Financing • Premium Driving Opportunities • Industry Leading Owner Operator Program

Solo & Team Tractors • Team Straight Trucks
–Limited Space Available–
Register Now! It's FREE to Attend! or call 877-349-9303 for more information
ES is working for You!
Call us at 877.349.9303 and Never Stand Alone.

Please visit us on Facebook.