Doing Our Research Helped Us Take the Path To Ownership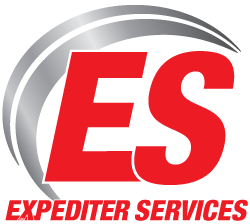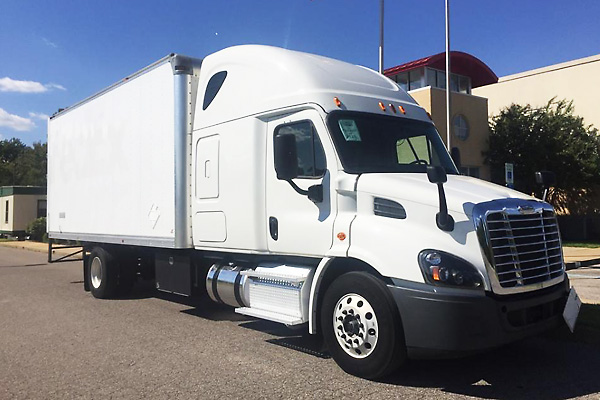 The desire to own your own transportation business can be a compelling proposition. You need a singular focus, determination and the right opportunity to be a Success In Trucking. Kelsey Gagnon and her husband/driving partner Bryan James left their jobs in the hospitality industry to pursue their dream of owning their own business and determining their own future. Their quest led them to ES's Path to Ownership (PTO), where they got their MBA (Much Better Alternative) to truck finance. Their path was successful and something ES does every day!
What made you want to get into transportation?
Bryan actually started in transportation before I did. He drove for another company for about nine months then he found an Owner Operator who was with FedEx Custom Critical and began working and driving with him. He did this for about a year to get to know the business. That's when I got my license so we could work together — he trained me, too. We had both been in the hospitality industry and wanted something more. We did research into transportation and it looked like a field with a lot of opportunity, so we decided to go for it.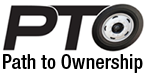 What made you and Bryan want to choose FedEx as your carrier?
Bryan had seen FedEx trucks on the road for years and was aware of them. We also did research on motor carriers to find which one we wanted to work with because our ultimate goal was to own our own truck and become Owner Operators. When he found an Owner Operator to work with it really helped seal the deal. We've been with FedEx now for just over two years. They're a great company and we're really happy here.
How did you find ES and our Path to Ownership and the Much Better Alternative to truck finance?
Since our goal was to become Owner Operators, we did a lot of research about the best and most efficient way to become owners. We found the ES website and got a lot of good information about their PTO and MBA programs. We also spoke to some people who had taken the Path to Ownership and had heard good things about it. After doing a lot of due diligence, no other opportunity out there spoke to us like ES did.
We also spoke with our recruiter at Fedex about what choices were available to us. He told us of several options and we chose the best one, which was ES. The next step was to call ES to get more information and the rest as they say is history.
To learn even more, we attended the EGG (ES's Group Gathering) in Southaven, Mississippi in April. They had a number of industry experts there explaining about the state of the freight market, financing and many other opportunities available through ES. We found this quite helpful and I would recommend that anyone looking to get in the business or whose interested in becoming an owner should attend the EGG.
Tell us about the process of taking the Path to Ownership and getting your Much Better Alternative to truck finance?
Of course at the time we didn't own a truck. The Service Coordinator we spoke to at ES told us the first phase of starting our business is to drive one of their trucks (as independent contract drivers) in order to establish our ability to drive and earn the kind of numbers to qualify to own our own truck. We thought this was such a unique approach and a great opportunity. We started driving right away — that was in January of this year. Six months later our fleet manager called to say that our revenue numbers were good and asked if we were ready to begin our Path to Ownership. We were thrilled and told her yes! We submitted our paperwork to Expediter Equipment Finance and within a short amount of time, we were approved.

The next step was getting in touch with Danny Vernon at Expediter Truck Sales. For our first truck, we decided to purchase a straight truck directly from the ES fleet. Going the pre-owned route represented a great value proposition and was the right move for us. We were able to purchase a low mileage 2015 Freightliner Cascadia ST dry unit at a much-reduced price over a new one. There are still plenty of miles left on this truck and we intend to get the most out of it. The truck also has a custom sleeper and an APU, which helps us save on fuel.
The entire buying process was simple. It's really true what they say about ES taking your work history and earning potential into account when it comes to getting approved. We're proof of that! It was a great opportunity to show our aptitude, attitude and work ethic to become approved to purchase our own truck.
What is it like being owners?
Being owners is just what we thought it would be. This isn't something we decided to do overnight. There was a lot of research, planning and work involved in becoming owners. Our earning potential is increased and so are our responsibilities. We went into this opportunity with our eyes open and its paying off. We're enjoying every minute of it.
Even though we have greater responsibilities with our business, we still have support from ES so we Never Stand Alone. When we have questions or problems, ES is a phone call or fax away. They're really good about communicating with us and it means a lot to have them there when needed. We've also found out that we're saving money with the ES fuel card and their insurance discounts, which is nice.
What are the future plans for your business?
We've been in our own truck for about two months now and it's given us time to see how our business is developing. We have plans to add another truck and begin building a fleet in the near future. With hard work and support from ES, we're confident that we can do this in a reasonable amount of time.
A Woman in Expediting's Perspective
Tell us about your experience as a woman in transportation?
Since this is my first experience in the transportation field (having come from the hospitality industry), I have nothing to compare it to. But it's been a very positive experience. I've never had any issues with anyone within the industry. I have a lot of people (men and women) asking my opinion about certain aspects of the business. I'm always happy to help and the longer I'm in transportation, the more help I can be to people who may be starting out.

What advice would you give to women looking to get into the transportation field?
I would tell them to do their research. There are so many opportunities in this business and they can make a good living. It also helps to have a good partner. It also helps to have a support team like ES behind you, too.
I would also encourage women to look into the opportunities offered by ES with the 150 Woman-Owned Business Challenge. Contact the folks at ES to learn about accessing these opportunities. They can help! (Read more about the WIT/ES 150 women-owned business initiative here.)
ES is working for You!
Call us at 877.349.9303 and Never Stand Alone.

Please visit us on Facebook.