April 10, 2023
Procuring fleet equipment is becoming increasingly difficult, especially for owner-operators that are trying to start or grow their own business but do not have the funds to put towards a large down payment on equipment. Traditionally, lease purchase programs have filled the role of putting business minded drivers into equipment with fewer barriers to entry, but in today's trucking landscape, finding a lease purchase partner can be filled with one challenge after another.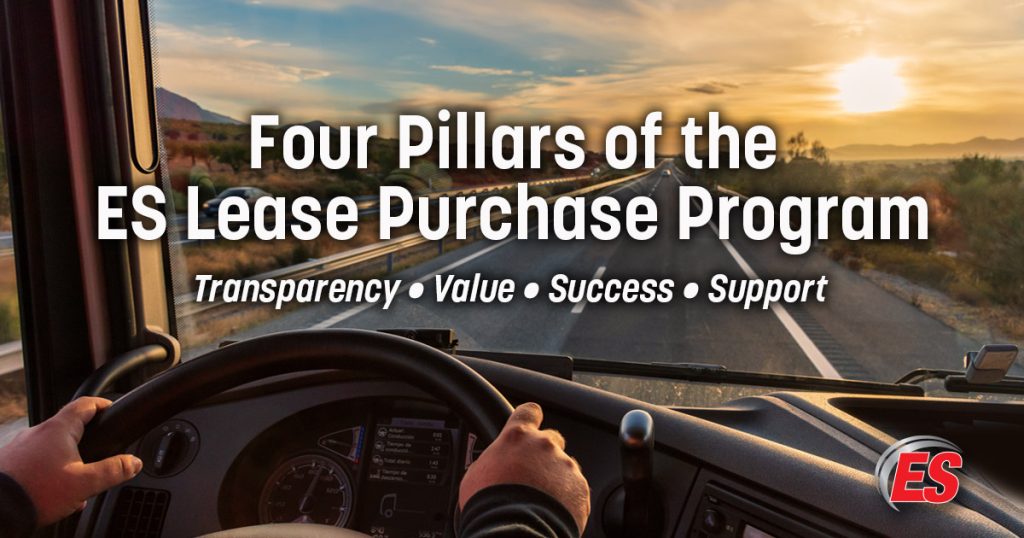 On the surface, many programs appear to have the owner-operator's best interest in mind, only to place hurdle after hurdle along the Path to Success. At ES, we value the individual and know that with the right network and support in place anyone can succeed in this industry.
About The ES Program
You don't have to search far and wide to find owner-operators that have some experience (good or bad) with a lease purchase program. Over the last decade or so, lease purchase programs have opened the door to truck ownership for thousands of drivers that otherwise would not have qualified for traditional truck financing.
At the same time, programs have used and abused those same owner-operators with high total cost of ownership, patchwork support systems, and lease structures that almost guarantee failure.
Regardless of your experience, you may be asking yourself – "What makes ES different?"
Transparency
Just about every lease purchase provider will tout transparency as a core differentiating factor. The truth, however, is that very few providers actually pull back the curtain and show pieces like cost of funds, aka interest fees, original vehicle purchase price, and clear off ramps.
These are critical pieces of information that have a lasting impact on the success of your business as well as your equity position and overall wealth accumulation. Our belief is that there shouldn't be smoke and mirrors when signing a lease purchase agreement. You should have all relevant information at your fingertips so that you can make the best decision for you, your family, and your business.
Value
No money down options aren't uncommon in the lease purchase world, but most are filled with one pitfall after another that are regularly glossed over because they only benefit the lease purchase provider. Don't get us wrong, no money down is an immediate attention grabber, but ask yourself these questions:
Any lease purchase provider that is worth their salt will help you look at the entire picture, not just the piece that gets your attention. While we also offer a no money down option, you won't find balloon payments within our Lease Purchase Ownership program.
Most owners in the ES program simply opt to keep paying the same amount as their typical lease payment until the vehicle is paid off. This helps you keep your cost of funds much lower than the industry average and removes the burden of coming up with a lump sum.
Success
We know that our success is solely dependent on the success of the men and women that operate within our program. This is why we don't just hand you the keys and hope that you succeed. Every driver that comes through our doors is evaluated on Attitude, Aptitude, Work Ethic, and Work History.
Our unique approach means that some people do not qualify from time to time, but if you put in the work and use the resources available through ES, you will be well on your way to success.
Support
Trucks break down, family emergencies pop up, life happens, and we understand that each of those impacts your business. As you are researching lease purchase programs, look closely at the support networks that each provider has in place. Far too many offer little – if any – support to owner-operators. We have simply chosen a different path.
We believe that with the right support system in place, anyone willing to put in the work can succeed in trucking. We invest in our services, discounts, tools, backend support team, strategic partnerships, and much more so we can build a community of support that brings together all the resources you need to help your business achieve long-term profitable and sustainable success.
Participants in the ES Lease Purchase Program also benefit from the powerful partnerships ES has with large carriers that have the ability to generate strong, consistent revenues.
Find Your Success in Trucking With ES
For any owner-operator currently exploring lease purchase options, we highly encourage you to do your homework. Find a provider that puts structures in place to help LIFT you up, and don't compromise when your business and livelihood are on the line.
To learn more about ES, call our team at (877) 349-9303, option 4 or connect with our team online. With ES by your side, you will NEVER STAND ALONE.
---