5 Ways Being an Owner-Operator is Like March Madness
March Madness has finally arrived and the conversation around the ES office as of late has been how the infamous tournament is incredibly similar to being an owner-operator or fleet owner. Both are full of highs and lows, grit and determination, and teams rising above expectations. Here are the similarities that has our office buzzing.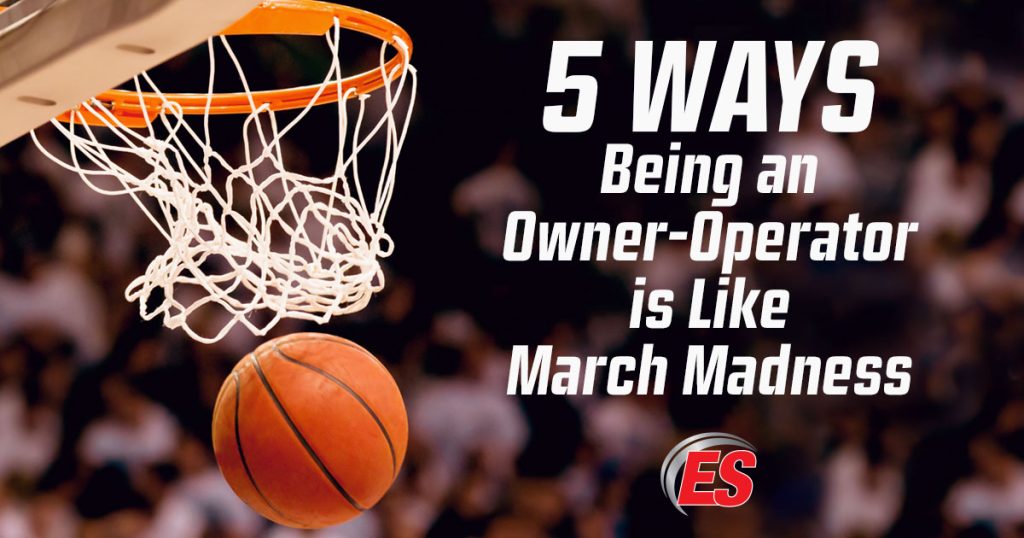 Build Your Resume
No two owners are the same. Like every team in the tournament, drivers need to build their skills and their resume over time. They will face adversity throughout the process and must show flexibility and resilience. The good news is that you don't have to be a blue blood to make it to the dance.
Survive and Advance Mentality
"Survive and Advance" – a phrase that you hear every year as would-be upsets push contenders to the brink.
The secret to making a deep run is the same with running your fleet. You have to be cool under pressure and work diligently to set yourself up for success. Approach it with a business-like mindset and expect that occasional setbacks will happen along the way. The last thing that you want is to rest your business on a buzzer beater.
Get In the Paint
We all love a perimeter shooter that gets hot and starts draining threes, but it is only part of the game. You have to be willing to get in the paint and do work. They might not make SportsCenter, but over time developing fundamentals will help you build your business and create a foundation for success that will last a lifetime.
Cinderella Stories
Who doesn't love a good Cinderella story? Someone coming out of nowhere to shock the world. This is probably one of our favorite analogies at ES, because the truth is that ANYONE can make it in this industry with the right pieces in place.
Take a look at any of the recent Cinderella teams that made deep runs and they all share common traits with the ES community – Attitude, Aptitude, Work Ethic, and Work History. They build their resume, and with the right approach and a solid support system they are able to succeed.
Having a Solid Bench Matters
Speaking of support systems, every team that makes it to the Final Four has one thing in common – great bench play. Owner-operators and fleet owners are the stars of the show, but even the best need a breather, or get into foul trouble at times.
At ES, we don't want to be the star player. We want to be the complimentary piece that can help you drain that three and get to the board for that important rebound. With ES on your bench, you will NEVER STAND ALONE.
Just like a bench player, ES is here when you need us! If there are areas in your business that you feel like you need some extra support, we're here to help, reach out to us at (877) 349-9303 or connect with us to discuss our programs available to you including
Discounts on fuel, shop, and tires
Back-office & operational support
Low-cost premiums on insurance coverage
Ongoing safety training
Legal services
Truck financing
And more!!