June 27, 2016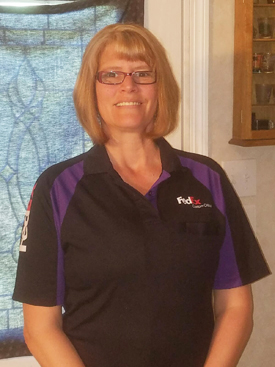 Our web series focusing on Women in Expediting rolls along as we continue to explore why women choose Expediting as a career, and how they not only survive in an industry traditionally dominated by men, but thrive to become successful drivers and/or owners.
Women in Expediting bring a number of much needed talents and abilities that compliment the team environment and contribute to a successful business.
We introduce Hope McDermott, wife, team driver and business partner of Thomas McDermott. They have partnered together through a number of ventures over the years, settling into a successful Expediting career since 2013.
SLN: How did You and Thomas begin your careers in Expediting?
We started out driving 53-footers for several years and we weren't real happy with the company we were driving for at the time. We began talking to people who were in Expediting and learned about the industry. Thomas got online and found the Expediter Services website — that was in 2013. We soon began at Expediter Services as contract drivers, signed on to Fedex as our carrier. A couple of years later, we bought our own truck at last year's Spring EGG (Expediter Group Gathering) from Expediter Truck Sales, utilizing Expediter Equipment Finance and we've not looked back since!
SLN: What reaction do you get from people who find out you are a woman in Expediting?


The subject does come up from time-to-time. Some people are still surprised that there are women drivers out there, but once they see that you know your job, they respect you. Also, I speak with men who want to bring their spouse or significant other on the road with them. A lot of times their partners are a little intimidated by driving a vehicle the size of a straight truck. I tell them a good way to see if they like it is to rent a large U-Haul truck for a weekend and drive it around. It's a neat piece of advice that has helped quite a few husbands get their wives involved in the business. Once their partner gets her Class B license, a whole world of opportunity opens up in Expediting.
SLN: What do you feel is the key to success for you and Thomas?
Thomas was "all in"  from the very beginning when it came to me being his driving and business partner. He was also the one who trained me to drive a 53-footer. In many ways, our working together as Expediters is not much different than when we were driving big rigs or even when we owned our own construction company years ago. Many people ask me how do we work so closely together. I think the important thing to remember is that at the end of the day we are a team and there is always give and take. It also helps to keep in mind the goal of having a successful business and Expediting helps to provide focus toward that goal.
Also, it's important to know boundaries and respect each other's personal space, after all, you're both living in close qurters much of the time. We use the curtain between our bunks as a way to maintain privacy. When the curtain is closed, it's private time and we both give each other the space we need.
SLN: Do you have any advice for women who may be looking to enter Expediting as a career?


I say that if you are a woman looking to get into Expediting, just do it! It doesn't matter if you are a contract driver or even an owner. There is real opportunity for women. It's often said in this business that you're not making money if the wheels aren't turning, and in general trucking that's true. But in Expediting, downtime is part of the business. Don't let that bother you. There are a lot of weekends where we are waiting on loads. But when Monday morning comes, we are on the road delivering freight. It also helps to get certified for HazMat and other enhanced credentials.
SLN: What does the future hold for You and Thomas?
Right now, we're working on getting our HazMat/White Glove credentials. Once we have this in place it will open up more earning opportunity for us, and we are looking into adding a second truck in January of 2017. At that point our tasks will probably change as we take on the management of another team on top of what we already do. Who handles potential problems would depend on which one of us is awake when we get the call. That's where team work comes into play. Over the next three years, we would like to have a fleet of about ten trucks and manage that fleet from home. We definitely feel like we can reach this goal with the support provided by Expediter Services.
Thanks Hope, for sharing your experience about Women in Expediting with us.
Stay tuned for another edition of Women in Expediting in a future issue of Spotlight News!

Visit our Women in Expediting page to learn about how you can get started today with your new career.
ES is working for You!
Call us at 877.349.9303 and Never Stand Alone.

Please visit us on Facebook.