July 29, 2016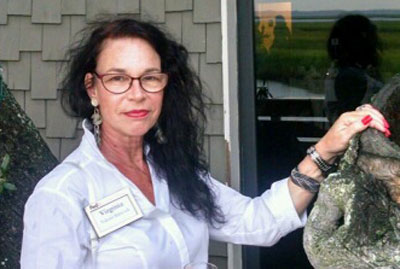 Spotlight News drives forward with our online series featuring Women in Expediting. It has been our privilege to show how women have contributed to Expediting, bringing talent, skill and success as drivers and owners to an industry that has been traditionally dominated by men. Women's talents and abilities are now being recognized as an integral part of what makes Expediting the best lifestyle and business choice in trucking for women and men.
In this issue, we shine the spotlight on Virginia Babcock. She, along with her husband and driving partner Kenny, are contract drivers who love the road, love their career and love each other! Since 2011, they have been a successful part of Expediter Services' fleet — and they are very good at what they do! (Read their story about receiving the coveted FedEx Custom Critical Four Star award here)
SLN: How did You and Kenny get started in Expediting?
We moved to Las Vegas a few years after the big economic downturn in 2008. Unfortunately, there were no jobs so Kenny and I started driving cabs. Being an over-the-road truck driver in a previous career, It wasn't long before he decided he wanted to get back into a truck. Since he had taught me to drive, we decided to look around for opportunities in trucking where we could be together. I soon found an Ad for a company looking for Expediting teams. I made the call and wound up talking to a recruiter at Expediter Services. They had openings right away and it wasn't long before we became independent contract drivers for ES, signed on with FedEx Custom Critical. That was in 2011.
SLN: Tell us what it's like being a female in this industry?
I started out years ago driving a cement mixer, so I got a taste of what it's like being a woman in the trucking business even back then. Physically, I'm on the petite side and people were often surprised that I would show up on the job site delivering a load of concrete. But once they saw that I was good at what I do, they were good with it. I think that's a big part of being a women in this business. It's more how you do your job than just being a female. There are some differences in the equipment being an Expediter, but it's really about people skills and being professional when dealing with the shipper and the company. I find that I'm almost always treated well and hardly ever have to open my own door at truck stops. Being a woman in this business definitely has its perks! On the whole, I find that women are welcomed in trucking.

SLN: What is the reaction from people outside of the trucking industry when they find out that you drive a truck?
It's funny, most people (women often) are surprised that I can drive a vehicle the size of a straight truck. This surprises me sometimes because Expediting trucks aren't that large when compared to say, an eighteen wheeler. I tell women that driving an Expediting truck is not much different than driving their mini-van. I also tell them they should try it sometime because they might find a whole new career. Seriously, more women should look into Expediting.
SLN: What are the tasks that you perform as a part of your business?
In addition to driving, I take care of a lot of the paperwork and I answer the phone most of the time as well. Over the years, I've learned to know the numbers. For instance, when we show up for repair work, I know the truck's serial number and the important information the maintenance people need in order to get the paperwork done quickly. It's just something that I'm particularly good at. In general, I take care of most of the inside operations, Kenny takes care of the outside jobs. We compliment each other in the jobs that we do.
A lot of people may not realize it, but it's a huge job to be organized when driving a truck like this. We stay out for long periods of time and being organized is a large part of being successful.


SLN: Can you expand on that last point. What does it take to be successful spending time with someone on the road?
If you're going to spend a lot of time with someone in the confines of a truck you can't be thin skinned. You have to be able to let stuff roll off of your back. Kenny and I have been married for almost twenty years, and we have also worked with each other during that time. And to be honest, there are times that we get annoyed at each other. But you just have to look at the big picture and ask yourself, "will whatever is bothering us matter tomorrow"? We've learned to work together and to do what's good for us personally, as well as the business. It must be working because we're still at it!
SLN: Tell us about the truck you're currently driving?
Expediter Services has been very good to us when it comes to equipment. We got a brand new Cascadia in 2014 and we ran it for 300,000 miles. ES called us last October and told us they wanted it back, to make it available at Expediter Truck Sales. They gave us another brand new one. Our new truck is incredible. It has practically everything we need, it has a TV, refrigerator/freezer, microwave and a good amount of room. Being able to cook meals saves us a great deal of money, too.
I can't tell you just how good ES has been to us. Their support is fantastic. I absolutely wouldn't drive for anybody else.
SLN: What advice do you have for women looking to get into Expediting?
I think above all, you have to be organized. Also, you have to be able to keep your emotions in check, not just to be able to get along with your team partner, but to be mentally and emotionally able to "go" at a moment's notice. When the call comes in that there's a load to pick up, we're ready to go NOW. Expediting can be a great career and I encourage women to seriously look into it.
SLN: What are your future plans?
We love what we do, and Expediter Services makes it so much easier with their support. Quite honestly, I can't see us doing anything else for a long, long time.
Thanks Virginia, for sharing your experience about Women in Expediting with us.
Stay tuned for another edition of Women in Expediting in a future issue of Spotlight News!
ES is working for You!
Call us at 877.349.9303 and Never Stand Alone.

Please visit us on Facebook.