We Can't Wait to Meet You at the Expo 2017
Another Expo. Another EGG is Hatching!
Only a Few Seats Available, Register Today.

For the fourth consecutive year, Expediter Services is excited to host the EGG at the Expo on the evening of Friday, July 14th. Learn more! Once again, ES is the Title Sponsor of this year's Expo and we're looking forward to a great event.
If you're unfamiliar with The EGG (Expediter Group Gathering), it's an opportunity for Expediters to meet, network and get to know each other. We believe in personal relationships, and want to learn about each other, your business, and your goals.
This year's EGG at the Expo features dinner and fellowship, giving us the opportunity to once again meet the people we know, and get to know those we don't. The agenda of the EGG at the Expo will be to give thanks to everyone in the community, reflect on the outstanding history, and focus on all the growth opportunities for Contractors (Contract Drivers, Owner Operators and Fleet Owners). We will also discuss the future opportunities as we move ahead. Remember, you will receive Real Support, Real Programs, Real Services and the Real Community offered by Expediter Services, so you Never Stand Alone.
Space is limited and a few seats are still available, click here to register and to learn more about the EGG at the Expo. We look forward to seeing you here!

While you're at The Expo Visit ES at Booth #235
and Expediter Truck Sales in the End Zone
Register now for the EGG, its FREE!
Expedite Expo July 14 & 15 in Lexington, Kentucky
It's that time of year again! The Expedite Expo is just around the corner and Expediter Services is proud to announce that we are once again the Title Sponsor! Please join us in Booth #235 and at the Expediter Truck Sales exhibit in the End Zone.
At this year's event, we continue to offer opportunities to Expediters with tried-and-true programs designed to serve Independent Contractors, Owner Operators and Fleet Owners helping them be more efficient, so you Never Stand Alone. In addition, we believe that if you can drive a truck, you can own a truck if you so desire through our PTO program (Path to Ownership), utilizing our MBA (Much Better Alternative) to truck finance. ES staff will also be on hand to assist those looking for opportunities through Expediter Contract Driver Services, Expediter Management Services, Expediter Truck Sales, Expediter Insurance Services and Expediter Equipment Finance.
What to Expect at the Expo…
Partner with Expediter Services and Never Stand Alone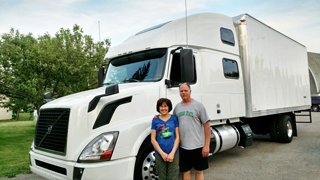 Independent Contractors
Expediter Services supports New and Experienced Drivers every step of the way with programs that can make you more productive. Learn more about the Independent Contract Driver program here. We're available at Booth #235 to answer any questions you may have about our Independent Contract Driver programs.
Owner Operators and Fleet Owners
At Expediter Services, Owner Operators and Fleet Owners can take advantage of our Owner Operator Program for back office support and savings on fuel, insurance and more. Learn more about the Owner Operator program here. Or stop by booth #235 to see us.
---

VISIT OUR RECRUITING TEAM


Come and see us at Booth #235! We are always happy to help turn your dream of being a Contract Driver, Owner Operator or Fleet Owner into reality. We look forward to seeing you here.
VISIT OUR TRUCK SALES EXHIBIT IN THE END ZONE
Get to Know Danny Vernon, ETS Truck Sales Manager

Danny Vernon, Expediter Truck Sales Manager, can assist you with the "Key to Success" by helping you source a good pre-owned straight truck, straight from Expediter Services' very own fleet. Please visit him at our ETS Exhibit in the End Zone and be sure to check out our great selection of trucks.
Expediter Equipment Finance Can Help You Achieve Truck Ownership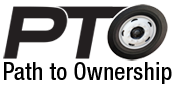 Expediter Equipment Finance can help finance your truck, even if you're a first-time buyer or a non-home owner. Our Path to Ownership lets your experience with Expediter Services play a key role in helping you get financed.
Expediter Equipment Finance Can Help You Buy a Truck
Do you have a desire to be an owner operator?
Do you have a good work & credit history?
First-time
buyers & non-homeowners can qualify
Your work history can determine your future
Competitive rates & terms
Multiple lenders
Payroll deducted truck payments
True Path to Ownership opportunities
Don't wait for the Expo, apply online now!
---
We're looking forward to meeting you at the Expo. Please stop by Booth #235 and our Truck Sales Exhibit in the End Zone. We are happy to answer any of your questions.
Come By Our Driver Recruitment Center at Booth #235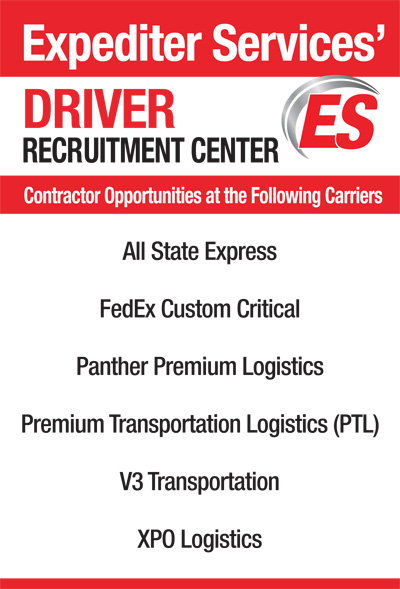 Don't wait for the Expo or the EGG to access
the opportunities offered by Expediter Services.
It's what we do every day!
ES is working for You!
Call us at 877.349.9303 and Never Stand Alone.

Please visit us on Facebook.