Women in Expediting: Starr Hill. The Follow Up.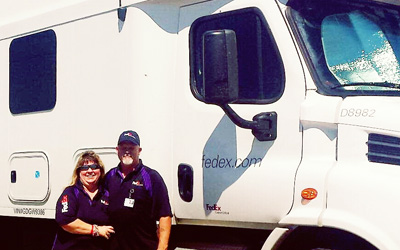 You may recall in a recent issue of Spotlight News, we spoke with the husband and wife team of Randy and Starr Hill, an independent contractor expediting team, who leveraged Expediter Services opportunities, programs, and equipment to build a successful business. Read more here.  As their earlier story unfolded, it became clear that Starr had overcome a number of hurdles set forth by the DOT, Carriers, and the industry at large, with perseverance, planning and help from ES. Starr was kind enough to go into more detail about her journey into Expediting and how Expediter Services was there to help her clear these hurdles to achieve her goal of becoming a driver in order to work with her husband.
SLN: Thanks for taking time to talk with us again. Can you give us more background as to why you chose Expediting as a career path?
After Randy's back injury, we were looking at getting back into a trucking career with a better lifestyle, and Expediting was definitely a much better choice because the trucks are easier to drive than tractor trailers. We also liked the fact that Expediting is mostly no touch freight.

SLN: You've mentioned that you didn't have your CDL when you decided to give Expediting a try. Tell us more about your thought process while considering this new direction.
When we made the decision to get into Expediting, we contacted ES to get more information and to tell them about our business goals before getting started. They were extremely helpful. At first, only Randy was officially onboard at ES, since he already had his CDL. It was our plan from the beginning that I would get my CDL, too. I had passed my written portion of the test, but still needed to become trained in order to get qualified by a carrier. We actually lost time at the start because I had such a difficult time finding a way to finish up.


SLN: Was ES helpful in finding a solution to your getting qualified?
Oh, definitely! Once we mentioned our predicament to the ES team, they came up with a solution: I could train with my husband in our own truck. I can't tell you what a relief it was.
SLN: What are the advantages of having your husband train you?
Had ES not come up with the solution that my husband could train me, I probably would not be in the business right now. I would have had to train with a stranger, and I probably would have had to train with a strange man — and Randy (nor myself), would have wanted that scenario. Besides, my husband is a real driving professional, and I can't think of a better person to train with. There are other advantages and benefits to training with my husband, too.
SLN: Can you go into detail about these advantages and benefits?
I'm happy to tell you more, because you really can't get these benefits anywhere else when you're just getting started in the trucking business.
– I didn't have to go to trucking school. I was able to get all of the necessary training on-the-job, with my husband.
– I didn't have to train with a stranger.
– Once I got my license, I was able to earn full pay, not training pay, which is a huge benefit.
– We're not tied to a lease-purchase.
– We're not tied to paying back any signing bonus.
– We're not stuck into a contract with a carrier forcing us to drive for them for any set number of years because they paid to train me.
– We're free to pursue truck ownership on our own terms.
– We also have real options, like great equipment and support from ES that lets us train, work and progress at our level of choice.
SLN: That all sounds great! How have things been for you and Randy since you're now fully licensed and up to speed?
Business is great! I'm driving and contributing to our team, just as we planned. Throughout the entire process of Randy and I becoming contractors with Expediter Services, they have truly lived up to what others in the business have told us about the company. They keep their promises and work with you to help find solutions. It's refreshing to find a company that doesn't fight you tooth and nail. They really want you to succeed. I honestly don't see how anyone would not want to have them standing with you in your corner.
Thanks Starr,  for sharing your experience about Women in Expediting with us.
Stay tuned for another edition of Women in Expediting in a future issue of Spotlight News!

Visit our Women in Expediting page to learn about how you can get started today with your new career.
ES is working for You!
Call us at 877.349.9303 and Never Stand Alone.

Please visit us on Facebook.