Women in Expediting: Lilza Gloria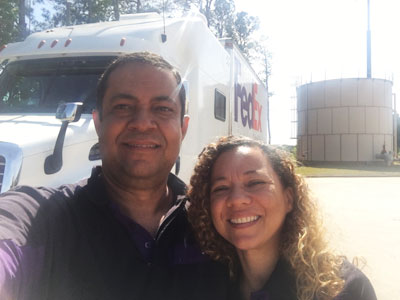 This week, we take another look at Women in Expediting by visiting with Lilza Gloria, whose husband Ray, was the focus of a recent Spotlight News article. (read story here)
The Gloria's journey into Expediting began shortly after the economic downturn of 2008. They decided that a change was needed, and they looked for an opportunity to start another career that was far afield from the twenty-plus years they had spent in electrical contracting. As fate would have it, Ray's brother was into Expediting.
They both recognized a great opportunity when they saw it and dove into the business with heart and soul. Today, the Gloria's have recently purchased a very slightly used Cascadia, financed by Expediter Equipment Finance and their White Glove Expediting business is going strong. We're proud to bring to you Lilza's story as a Woman in Expediting.
SLN: Tell us how your Expediting careers began.

When the economy went into a downturn back in 2008, things began to get really bad. Our electrical contracting business was very badly effected. The whole experience was extremely traumatic, especially for Ray. That was such a stressful time for us.
Ray's brother was driving an Expediting truck for FedEx, and we both became interested in the business. I was onboard with the concept of Expediting from the beginning. It seemed like such a good opportunity. After a short time, I got my license and that's how I got started. Becoming a driver was challenging at first. I had really never done anything like this before. The first week or so was really tough, but I stuck with it and I got used to driving a truck. Things eventually got better. Just like anything else, the more you do it, the easier it gets. It also helped that Ray was so patient with me. He taught me a lot about what to do as a driver. We've been together ever since as partners, now I can't imagine doing anything else, I really love this business!


What kind of reaction do you get from people when they find out that you're a Woman in Expediting?
A lot of times people are surprised that I drive an Expediting truck. I think mainly because I'm very short and petite, It's hard for them to imagine that I can handle such a big piece of equipment. There's also a little bit of stereotyping because I'm a women in this business, but for the most part, the reaction is quite positive. You'd be surprised at the number of people who are interested in what I do and they ask lots of questions. They're genuinely interested in learning about the truck and about the business of Expediting. I always look at it as an opportunity to educate people about what we do and the industry as a whole.
SLN: Tell us about getting your license, what kind of challenges did you face?
I have to say that before starting the process of getting my license, I had never driven anything bigger than a mini-van, and it was quite intimidating. The license I trained for was a Class A, so all I drove at the time was a tractor trailer. I was fortunate that my instructor was very patient and I became qualified. I really never felt any kind of difference in the process because I was a woman.
I studied hard and even did a lot of extra practice. My husband would take our truck with a trailer from our electrical business and take me to the Home Depot parking lot after hours and help me practice. I was fortunate to have someone who was so helpful and patient to help me get time behind the wheel. Now, driving is very much second nature. You just have to apply yourself.


SLN: What do you attribute to Yours and Ray's success as Expediters?
I know that every couple or team is going to be different, but for us, I believe it's that we want to be in business together. We also get along great. People often ask, "how can we spend so much time together in a truck?" The answer is that we genuinely like each other. He makes me laugh and he truly is my best friend.
It also helps that we have been able to be successful in our business, and ES and Expediter Management Services are a big part of that. Their support helps us to concentrate on our business, so there's less we have to worry about, giving us time to set goals and achieve them more easily. It's true what they say; with ES, you Never Stand Alone.
SLN: What is your advice for women looking to Expediting as a career?
I would advise women to just be patient. Expediting is not easy. It takes work and practice to become proficient at what you do. But once you spend the time to learn the business and develop the skills necessary, it is a very good career. I also say to women, don't be intimated by the equipment. You can learn how to operate the truck, especially if you have good partners like I do — Ray and Expediter Services!
Thanks Lilza,  for sharing your experience about Women in Expediting with us.
Stay tuned for another edition of Women in Expediting in a future issue of Spotlight News!

Visit our Women in Expediting page to learn about how you can get started today with your new career.
ES is working for You!
Call us at 877.349.9303 and Never Stand Alone.

Please visit us on Facebook.