Rewards that Owners and Contractors are Sure to Love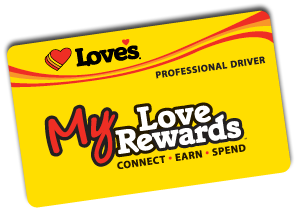 Expediter Services is excited to introduce a NEW rewards program negotiated with Love's to provide Owners and Contractors the absolute cheapest fuel prices in the industry; along with some extra benefits to help make life on the road more comfortable.
The Love's Rewards program took a year of negotiating and planning in order to achieve the level of benefits desired by Expediter Services. "Our goal here is to make sure our Contractors actually get the best and greatest advantages in the industry. Always, the Best of the Best!", said Paul Williams, Expediter Services CEO.
Williams continues, "Love's Rewards recipients can begin signing up as early as August 15th, 2015. The program was developed to run continuously and it will be monitored and updated quarterly. Our intention is for all of our participants to have access to the Road Best Traveled."
Love's Rewards recipients who sign up for the program between August 15 and September 30, 2015 will automatically receive Platinum status, with benefits to include:
3 points per gallon for diesel fueled and bulk DEF.
3 points per dollar spent on merchandise, driver services and tire care.
Free drink refills and showers on ever visit.
"Our new Love's Rewards Program, either matches or exceeds all available reward options in the expedite industry. Expediter Services will continually strive to keep our Contractors at the forefront of expediting," said Williams.[vc_column_text el_class="viva_custom"]
Owners and Contractors are encouraged to register
for the new Rewards Program — here's how:
Register at My Love Rewards card, if you have not already done so. Simply pic up a card at your nearest Love's Travel Stop and register at the in-store My Love Rewards kiosk, aon the Love's Connect movie app or online at www.MyLoveRewards.com. During registration, be sure to opt in to receive Special Offers available only for My Love Rewards members.
Swipe your My Love Rewrds card with every Love's purchase.
You will begin to earn points and rewards within 72 hours of swiping your registered My Love Rewards card on a diesel fuel purchase.
PLUS: Check your Love's receipt for ways to earn even more points and rewards.For those who are Rewards participants and do not receive Platinum status automatically, or if you have any question about My Love Rewards program, contact Love's Customer Service at 1.800.OK.LOVES.
Participants can also sign up for Love's Connect Mobile App on a phone or mobile device.
Click Here to download a PDF to learn more about the NEW Love's Rewards program.
ES is working for You!
Call us at 877.349.9303 and Never Stand Alone.

Please visit us on Facebook.