Limited Space. Unlimited Opportunity. Register Today!
The EGG (Expediter Group Gathering) is only a few days away! NOW is the time to register to be a part of the industry's premiere event for Opportunity, Networking and Fellowship.

We've had a tremendous response to the upcoming EGG and lots of people have already registered. There are only  a few seats left — so, if you're interested in attending, please Register Now to insure your seat. Our speakers are excited to share their knowledge and experience, and the ES team is looking forward to seeing you here!
If you're a driver looking to become an owner, an owner looking to upgrade, a fleet owner looking to grow your fleet or if you're someone who is looking to start an Expediting business in a team environment, there's only one place you can hear and meet top transportation industry leaders. And that place is the Spring EGG (Expediter Group Gathering), May 12 & 13 at the Landers Center in Southaven, Mississippi.
Our GRADE A line up of speakers reaches across the transportation spectrum in order to share information and knowledge to help keep you informed about the latest issues and trends in Expediting.
GRADE A Speakers. GRADE A Knowledge.
SPEAKERS AT THE EGG INCLUDE:
Lawrence McCord
CEO and Founder, ExpeditersOnline.com
Entrepreneur and business leader in the expedite trucking industry for more than 20 years, Lawrence has launched an industry standard trade show, a network of successful trucking websites, a daily transportation radio news program on Sirius XM Radio, and nationally distributed magazines.
---
Mike Welch
Founder and President, Magnate Worldwide
Mike Welch became President and was appointed to the Board of Directors of XPO Logistics in August of 2004. He was appointed CEO of XPO in June 2005. Mike's primary focus is providing executive leadership and further expanding the footprint within premium transportation and logistics services. Mike has been involved in the transportation industry for over 28 years, with significant expertise in the Expedited industry. In 1989, Mike co-founded Express-1, Inc., a Midwest-based expedited carrier.
---
Donna Sleasman
Fedex Custom Critical Fleet Owner
Donna Sleasman began her career in trucking while working at a gas station in 1982. She recognized early on that the transportation business was a way for women without a college education could earn a good living and became an owner and long haul trucker. Donna entered Expediting soon after her husband's retirement in 1999, and as they say, the rest is history! She is now a successful Expediting fleet owner with an inspiring and interesting story to tell. You won't want to miss it!
---
Ellen Voie
President/CEO Women in Trucking
Ellen Voie founded the Women In Trucking Association in March of 2007. The Women In Trucking Association was formed to promote the employment of women in the trucking industry, remove obstacles that might keep them from succeeding, and to celebrate the successes of its members. As an industry advocate and hands-on manager, Ellen attended Tri-C Truck Driver Academy in Cleveland, OH to earn her Class A Commercial Drivers License (CDL). In July 2012 she was honored by the White House as a Transportation Innovators Champion of Change. Ellen has had long and storied career involved with many aspects of the trucking business. She looks forward to sharing her knowledge and experience at The EGG.
---
 What is The EGG?
The EGG is an event, hosted by Expediter Services that affords Expediters the opportunity to gather in order to meet others within the industry, and it gives ES the chance to get to know you personally. In addition, the EGG isn't a "one size fits all" event. Each EGG is different, covering different topics that are important to Expediters, including Truck Sales, Financing, Support Services, and any number of services and products offered by Expediter Services.
In addition to the above speakers, The EGG features a number of carriers, companies and opportunities represented, including but not limited to:
– Women in Trucking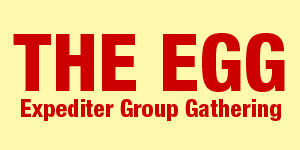 – FedEx
– Panther
– Stoops Freightliner
– Expediters Online
– Red Eye Radio
– Success in Trucking
– deBoer Transportation, Inc.
– Harper's HS Trucking, LLC
– XPO
– Magnate Worldwide (Premium Transportation Logistics)
– V3 Transportation
There's More!
Along with a great lineup of GRADE A speakers, ES will feature opportunities for networking, an open house at the newly updated ES offices, a grand opening at The Hub (our NEW Contractor's Lounge), and great food and fellowship throughout the weekend! ES management and staff will also be on hand throughout the event to get to know you and answer questions.
We look forward to seeing you here at the Spring EGG 2017 at the Landers Center in Southaven, Mississippi.
Learn more, watch Danny Vernon, Expediter Truck Sales Manager's video as he talks about the upcoming Spring EGG 2017. (click video to view)
To learn even more, check out what happened at last year's Spring EGG 2016.
ES is working for You!
Call us at 877.349.9303 and Never Stand Alone.

Please visit us on Facebook.