A Lease Purchase Agreement is Not a Business Plan
Ask anyone who has been successful in transportation and they'll tell you that it can be a tough road finding the right opportunity and support for your business. But that was then — this is now! ES has been at the forefront of creating a paradigm shift in the market for transportation professionals looking for a Much Better Alternative (MBA) with a Path to Ownership (PTO) that's real — with real support.
Expediting husband/wife team and business partners William and Sol Correa (signed on with XPO as their carrier) recently took ES's Path to Ownership and got their MBA upon leaving a very unfavorable lease purchase agreement. Read more below to see how they became true truck owners with support from ES.
How did you get into transportation?
I looked around at a lot of other businesses and transportation looked like a real growth industry with a lot of opportunity. I had never driven a truck before, but I liked the idea of being my own boss. The transportation field also gave me the opportunity to work (and travel) with my wife Sol. What's great about our journey is that after four years of being in the business, so many of the dreams that we've had about having our own business are coming true! Becoming a real truck owner, and leaving our lease purchase is a big part of that, thanks to ES.
How did you wind up with XPO as your carrier of choice?
A friend of mine was running with XPO and he told me about their business model and that they treat their drivers really well. I looked into it, talked with them, and liked what they had to offer. We made the switch to XPO about a year ago. Everything my friend said about the company was true. XPO really cares about us and our business (unlike several of the other companies we've worked with over the years). They truly are a great company to work with and we're profitable running there, too. They're a great choice for how we do business.
You mentioned earlier that you left a lease purchase agreement, tell us about that?
Our lease purchase experience was awful! The truck we had was old and it was in constant need of maintenance and unscheduled repairs. If that wasn't bad enough, when we called the leasing company for help, they told us we were on our own and many times we had to use parts that they chose in order to get it fixed. We lost a lot of money on repairs with that truck. There were other drawbacks too. Our payments were really high and when you do the math, there's virtually no way to beneficially pay off the lease. Almost any way you look at it, the lease purchase option isn't a good one and shouldn't be part of your business plan.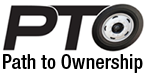 Tell us about your Path to Ownership and getting your MBA?
That's easy, just like getting financed! We had a friend who is on a team running with XPO who told us about ES's Path to Ownership (PTO) and their MBA program. It sounded like a great opportunity.  We started off by contacting Expediter Truck Sales Manager, Danny Vernon. We told him about our desire to get out of our lease purchase and become true truck owners. He started the process immediately and found us a 2019 Kenworth 680. The truck is fantastic!!! It has a great sleeper, a ThermoKing Tri-pack APU and a whole lot of amenities that we just love. After we settled on the truck, we were soon in touch with Steve Kochensparger at Expediter Equipment Finance. Sol has done such a great job keeping all of our paperwork up-to-date, we were able to hand it off right away, helping to make our approval very fast.
Sol and I have worked so hard over the years to be successful. It was great to find a company like ES that shares our same values. When getting financed, they even took our work history, attitude and aptitude into account. You can't say that about regular banks when it comes to getting financed. We're looking forward to making the most out of being true truck owners.
Sol's Perspective as a Woman in Expediting
What made you want to get into transportation?
It's interesting that Spotlight News is asking about women in transportation, as I'm a member of the Women in Trucking association. I'm familiar with their 150 Women-Owned business challenge. I think it's great that ES is backing this effort. (Read more about the 150 Women-Owned Business Challenge).
To answer your question, transportation looked like a great opportunity to start a business, especially as a woman. It has given me the opportunity to be independent and to work with my husband and to earn a good living.
Can you tell us about your experience as a Woman in Expediting?
It can be a challenge to get up to speed when it comes to certain aspects of the business. Paperwork is one area in particular that can be tough to master, as some states can require more paperwork than others. I've been particularly diligent in order to learn this part of the business and handle all of the paperwork, documentation and payroll for our business. I also drive! But most importantly, we work as a team and play off of each other's strengths.
Overall, my experience has been good. It's important to do your job and always act professionally. Everything else will take care of itself if you take care of the fundamentals. I want women to know that there is opportunity in transportation and they shouldn't be intimidated. You can do this as a career and be successful — especially with a company like ES supporting you, because with them in your corner, you Never Stand Alone.
We asked William about future plans for their business?
Ever since we started, its been our goal to grow our business. Now that we've successfully taken the PTO and gotten our MBA, there's a clear path that we can take to grow a fleet. Our plan is to add more trucks in the near future. We're looking forward to even more opportunities and growing with ES.
ES is working for You!
Call us at 877.349.9303 and Never Stand Alone.

Please visit us on Facebook.