Welcome to General Trucking
Drivers Ready for Ownership
Drivers: Are You Ready For Truck Ownership?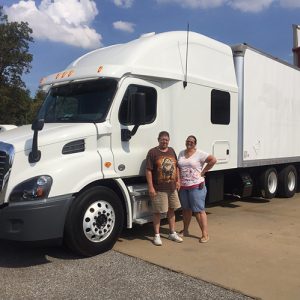 Trucking is an industry that offers endless opportunities – including paths to ownership and independence as an owner-operator. For many professional drivers, though, the journey to achieve the dream of truck ownership can be filled with as many ups and downs as you'll find bumps in the road during a 500-mile run. While securing financing at favorable rates often stands as the top concern, professional drivers seeking to become owner-operators must also consider how to place yourself in the best position to succeed. What sector of the industry is going to provide you with access to the kind of miles that will deliver a return on your investment in the equipment? Will you have access to the support necessary to address issues and answer your questions in your quest to be successful?
ES and the Success InTrucking team have a proven track record of success in working with new and experienced drivers who are seeking to take the next step in the trucking industry and become owner-operators. Our program features access to the resources you need and experienced support with effective strategies that can help you find the best ownership opportunities available in the trucking industry. 
We respect and admire the desire and commitment of the hundreds of professional drivers who have taken advantage of our services and programs to become owner-operators. Through SuccessInTrucking, we want to share our expertise and innovative approaches we have developed in offering a Path To Ownership for professional drivers.
Support In Taking The First Steps Toward Ownership
Do you want to take the next step and hold an ownership stake in your future on the road? ES offers a comprehensive program that is designed to meet your specific needs. Our program features equipment and financing at highly competitive rates. Our experienced finance professionals are willing to work with applicants – quite often placing more emphasis on work history and your standing as a professional driver than solely focusing on your credit history.
We can help to get your team operation off to a strong start by helping you identify a carrier that will open the doors on new and profitable opportunities. ES and the Success In Trucking team have a considerable group of experts who can help support you in meeting the challenges of running your own business. Our support team is committed to partnering with you to address your concerns. We are invested in your success.
From Small to Large, We Have Options To Fit Your Needs
Expedited transit is one of the fastest growing segments within the supply chain. Owner-Operator teams are in high demand and the ES has the expertise to help you achieve success. The beauty of the proven platform established by ES and offered through Success In Trucking team can be found in the variety of options we have available for professional drivers. There are a number of paths to ownership, including the following:
Straight Trucks
This can be ideal for drivers looking to enter the professional ranks with a Class B license. It allows you to get valuable experience and allows for an easier transition if you choose to earn your Class A CDL and drive a Class 8 tractor.
Class 8 Tractors
For professional drivers with experience working with fleets, this option places you within familiar territory to launch your career as an owner-operator. ES will work with you every step of the way to make certain that you and your team partner are in position to make the most of your opportunity with an expedited truckload carrier's fleet.
Pick Your Path To Ownership
ES has ownership opportunities for professional drivers at all experience levels as well as at all stages of your career. We are committed to assisting you in finding an opportunity that offers the best fit for your experience level. Along the way, we are dedicated to supporting you in reaching your growth goals as an owner-operator. We have programs in place that will allow you to test the waters with your Class B license in a straight truck. If you want to make the transition to a CDL and Class 8 tractor, we will be honored to support you with a proven path that can help you achieve your goals. Our overall focus is to assist in your efforts to be a successful in your career.  With ES, you will Never Stand Alone!
Weighing Lease-Purchase Programs Vs. Our Real Ownership Options
ES and the SuccessInTrucking team offer a Much Better Alternative to lease purchase programs complete with top-of-the-line equipment and market-competitive financing that provide a better, stronger and faster path to ownership. The professional team assembled by ES understands what drives the extremely high failure rate of the lease-purchase programs, which has allowed ES to achieve our success rate of over 90 percent.
Before signing a lease-purchase agreement, we would like to invite you to contact the ES professionals. We will work with you on examining the plans and comparing your lease-purchase opportunity to other options under the ES umbrella. At the end of the day, we want to save you money and position your operation for an optimal level of success.